Wayne Tempero, bodyguard to Ernesto Bertarelli and Brad Butterworth, has been arrested in dawn raids at Coatesville - just north of Auckland (and not far from Core Builders in Warkworth).

You will remember Mr. Tempero's lurking presence during the LV-P series in Auckland.
His "fightimes" website describes his close friendship with Bertarelli and Butterworth.
NZ Police raids were conducted in conjunction with the FBI.
The plan is to close down an Internet file-sharing site called "Megaupload.com."
Until recently, Tempero was a director of this company.
This (edited for brevity) from the New Zealand Herald.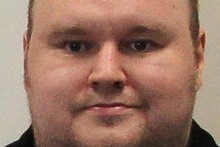 Kim Dotcom. Photo / Greg Bowker


A dawn raid that landed internet mogul Kim Dotcom in jail was timed for his birthday celebration so his party guests could also be locked up.
Police pursued Dotcom through his $30 million mansion to find him sheltering in a panic room where there was a shotgun.
An estimated $17 million in art, cars and cash was seized in Auckland as part of the global operation. More than $100m was seized around the world.
Police moved on Dotcom (also known as Kim Schmitz) at the urging of United States authorities, who shut down Dotcom's Mega websites - some of the most popular filesharing websites in the world.
US authorities moved after gaining an indictment alleging Dotcom, six staff and his companies were in a "Mega Conspiracy" of racketeering, money laundering and copyright breaches worth US$620 million in missed royalty payments.
They further claimed there was US$200m in money earned through crime, and that Dotcom himself made about US$55m from the sites last year.
US officials want to extradite Dotcom and the three other men arrested this week. They will appear in court tomorrow to seek bail. Three further men are still wanted by police.
Detective Inspector Grant Wormald, of the Organised & Financial Crime Agency New Zealand, said the planning of the raid was timed around Dotcom's 38th birthday celebrations, intended for yesterday.
"Intelligence had told us that when he has a birthday party most of the people who were indicted (in the US) would be at his party."
He said the raid had netted four out of the seven named in the US indictment.
Wormald said planning focused on speed to ensure "evidence" was not destroyed, which led to the use of two helicopters to get armed officers into the mansion quickly.
He said officers got off the helicopter and identified themselves as police while approaching the house.
Officers entered the house and saw Dotcom at the top of the stairs. He said officers again shouted they were police. "He chose to run back into the bedroom."
Wormald said police had to get through electronic locks on the bedroom door and saw Dotcom disappearing into another room. When police entered that room, it was empty.
Police searched and found signs of a "safe room" - also called a "panic room". Officers broke into the room and found Dotcom inside.
"The concern for us was there was a firearm in there," said Wormald. "The shotgun was in the room and it was close to where he was seated."
It was one of two shotguns seized from the mansion by police.
Officers also arrested personal protection specialist Wayne Tempero, 55, and charged him with possession of a restricted weapon. He is due in court on Thursday.
The Herald on Sunday has learned both weapons were found by police in gun safes.
Wormald said three FBI agents and an FBI lawyer had been in New Zealand over the last week. They had not been personally involved in the raid.
The agents had spoken to some of the men in cells as they waited to appear in court on Friday, after the men "indicated they wanted to speak to the FBI".
The case has given an insight into the lifestyle of the eccentric and wealthy internet tycoon. Neighbours watched as luxury cars worth $6m were taken away.
Dotcom was a gregarious character who stood out in the neighbourhood, sometimes raising the ire of locals due to alleged speeding near the property and parties at the mansion.
By
David Fisher
Copyright ©2012, APN Holdings NZ Limited