here is probably what can be labeled as "design porn" on this forum...In recent months I have carried out a couple translations for Mssrs. Chevalier & Taglang, who have impressed the AC community in the late 1980s with their impressive study of the history of America's Cup designs (a 20lb book). They have published hundreds of works so compelling that I have collected them all: hundreds of exceedingly detailed analyses of yachts from the earliest Polynesian praos to the latest and most bleeding edge of the spectrum including the earliest publicly released lines of Team New Zealand upcoming challenger for the 2013 America's Cup. When he called last month for a translation, it concerned something that I had not yet seen: one of his own designs. Details below. Enjoy!
Publishing naval architect François Chevalier's original design for an out-and-out racer immediately reveals a great blend of today's most generalised trends for breaking speed limits as well as displays the author's great ability to look into the breadth of working concepts in yachting history and formalise a proposal that could establish herself as a capable prize winner, advocating the scow bow as tomorrow's cornerstone in building racing yachts.
Mr. Chevalier writes: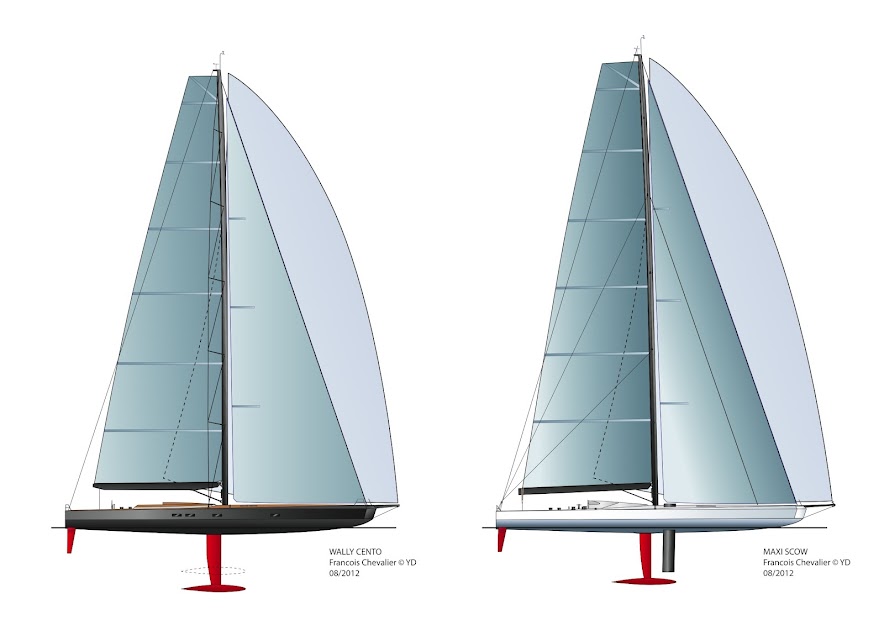 Figure 1: The two MScow projects (overture)I had had early etchings for these two 100ft sailing yachts, which I named MScow, laying on my draftboard since last summer, together with a Volvo Open 70 and an IMOCA Open 60. When the Volvo Ocean Race announced that future editions would use a one-design, I decided to finalise the two 100ft projects: a WallyCento and a Maxi Scow.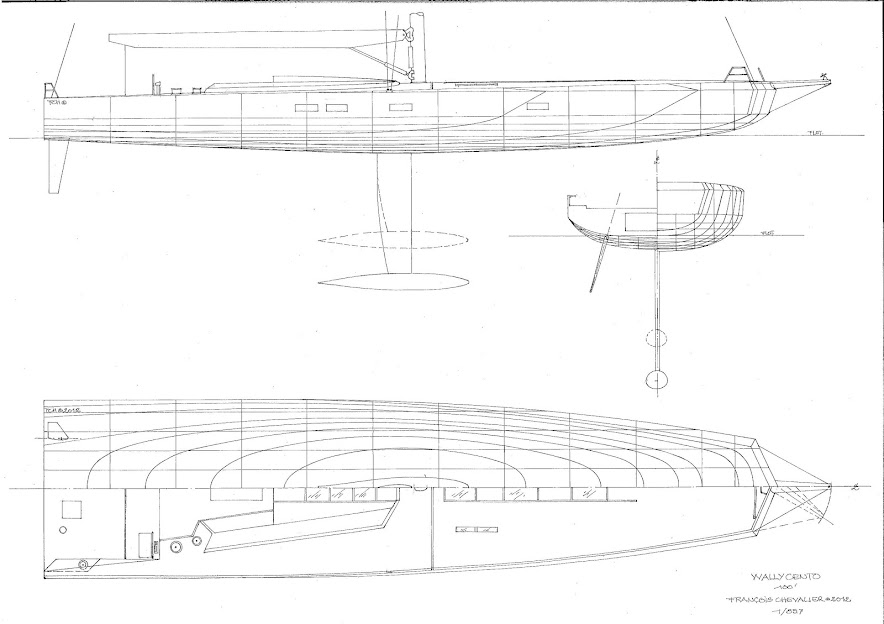 Figure 2: WallyCento, lines, sections, profile and half-deck
Figure 4: WallyCento, interior layoutThe reason to design yet another Wally lies in the designation of the WallyCento rule itself: owners remain keen on the combination of comfort, performance, modern design and bleeding edge technology in a yacht. Even if the WallyCento open box rule forbids canting keels and includes a minimum displacement figure, she remains true to the Wally essence which has begot its prestigious fleet: simple handling, automated sailing systems, utterly flush decks, light and minimalist interior spaces.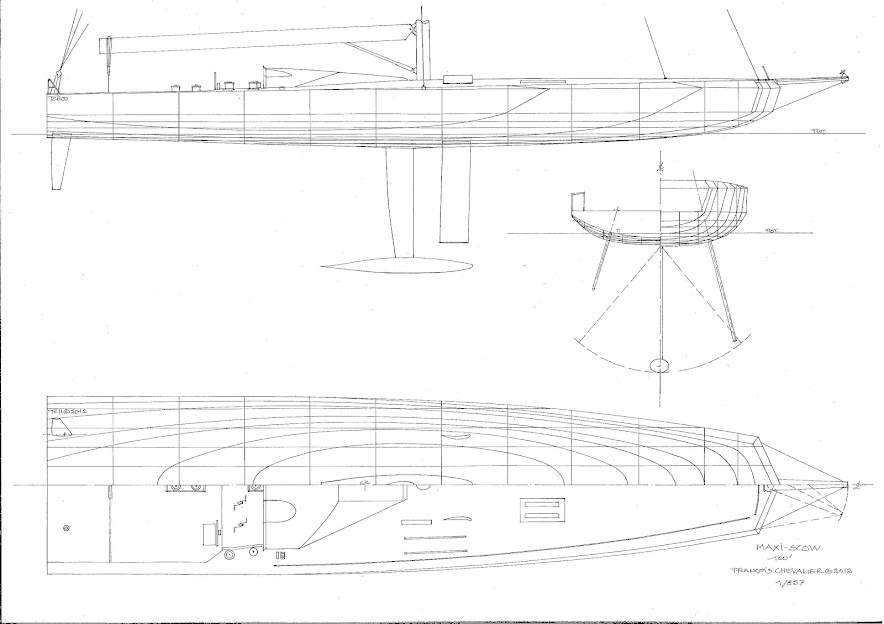 Figure 5: MaxiScow, lines, sections, profile and half-deck
The "Record" designation of the MaxiScow version, which features a more lightweight displacement and a canting keel, rid of all the modcons and automation usually presented in Wallys, targets ocean records and line honours in crewed races such as the Newport-Bermuda, the Fastnet or the Sydney-Hobart.

As featured in the wetted surface diagrams comparing the MScow concept with conventional monohulls when heeling, the key advantage of the MScow is her underbody, which under a heel sails at an angle which would be three times smaller than a conventional yacht. On the one hand, the righting moment is a lot more efficient, whether or not she is fitted with a canting keel, and on the other hand, the keel remains in the centerline under sail: The result is the MSow's better ability in pointing to windward, by one or two degrees depending on configuration.

To improve the sailing platform's performance, the bowsprit can be orientated and the clew of headsails can be adjusted in the lateral plane.


Figure 8: WallyCento and Maxi Scow compared with conventional 100-footerOn a level plane, the lines of the WallyCento and MaxiScow are reminiscent of a windsurfing board.
On a heel, the angle of the wetted line with the centerline is a third of that of a conventional racing 100-footer.

As far back as the 1970s, I made a concept for a crossoceanic windsurf designated for a double-handed Transatlantic race. As for many projects of this kind, the model is still hanging on my office wall. The idea remerged ten years ago when I wrote an article investigating the origins of planing hulls. The craze which governed the American skimming dishes at the turn of the twentieth century, with waterline length as the only limitation, had given me the idea to develop an IMOCA Open 60 for the Vendée Globe single-handed circumnavigation race.

I decided to develop a progressive chine-bilged scow, and instead of a pram bow, I proceeded to cut away the stem very significantly to avoid wave slamming as much as possible. By tapering the bow both in height and in width, shocks with head waves are dampened significantly and the scow skims the surface immediately and displaces as little water as possible.

François Chevalier, August 4th, 2012
specifications WallyCento MaxiScow naval architecture Francois Chevalier YD Francois Chevalier YD build carbonfiber, built to WallyCento open rule carbonfiber shipyard the yachts can be built at Multiplast (France), Green Marine (UK) or Cookson Boats (New Zealand). Length Over All 100ft (30.48m) 100ft (30.48m) Load Waterline Length 87ft 7 in (26.70m) 87ft 7 in (26.70m) beam 23ft 7in (7.20m) 23ft 7in (7.20m) draught maximum 20ft 4in (6.20m), minimum 14ft 9in (4.50m), dropkeel 18ft 4in (4.50m) canting keel displacement 45 tonnes 38 tonnes air draught 147ft 8in (45m) 150ft 11in (46m) mainsail + jib area 6,370sqft (592m²) 6,760sqft (628m²) mainsail + gennaker area 11,000sqft (1000m²) 11,900sqft (1110m²)