History repeating
by John Curnow, Editor, Sail-World AUS 7 Jun 2021 08:00 AEST

 9m trimaran - El Toro © Ben Kelly
Here's something very new, as such... However, in the 60s, another bunch of avant-garde enthusiasts pretty much did the same. Now their product also took its inspiration from the male bovine. They even gave the Muira wonderful little styling cues to really cement Lambo's triumphant arrival into the supercar scene, with the cheeky eyelashes turning heads, and placing exclamation marks everywhere it went. Yet there was another you had to be specifically looking for, and all the while it paid homage to their very origins on the land, as the tractor builder made good, duking it out with the biggest and best in the business.
​
Tri it on all right!
So our nautical 
'El Toro'
 is a 9m trimaran, which is obviously in reference to said bovine, for front on, it too has more than a passing resemblance. The band of passionate sailors consists of Ben Kelly from North Sails in Brisbane, and Aaron Carle (engineering/design/boat building) who both designed it, and then Russell Kerr (painter-come-boatbuilder during this project), along with Doug Fuller (boat builder. "Plus he is the wise one, having built multiple trimarans!" as Kelly informed me.) All four will make up her race crew.
The skilled crew has raced multis together for ten years, and El Toro is the classic labour of love, with weekends and a few nights being scraped together over the last five years to get her to the stage where she is set to race in the next few months. No pressure, of course...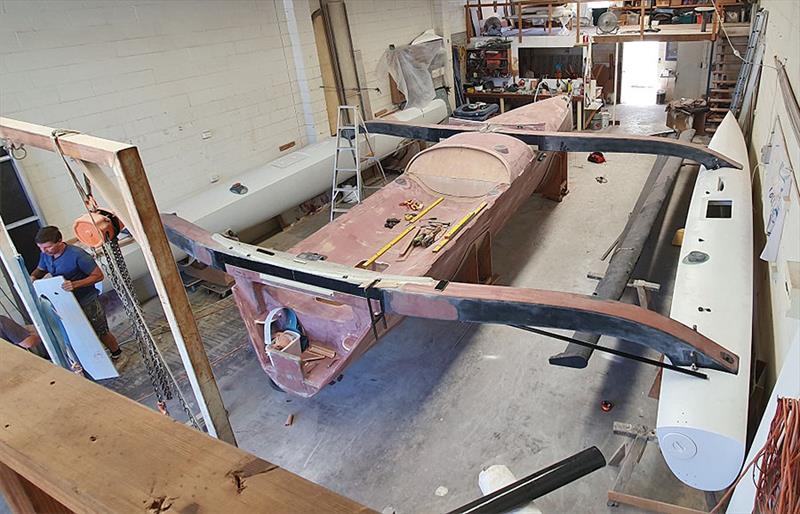 Powerful form of the new 9m trimaran El Toro - photo © Ben Kelly
The bucket list project is a non-commercial build, "...but we could do plans for home builders if they are crazy enough! We all say this will be our last ever build!" As Kelly said this, you got the feeling that they almost wanted to go on record to ensure they don't get any more grand ideas once El Toro is launched.
Kelly has won ten Multihull National titles aboard vessels penned by Grainger/Egan and Farrier, all of whom have influenced this boat's design, but you can easily also see a real French twist, given they all "...love the Multi 50s, ORMA 60s, Mod 70s, and Ultim weapons!"
More than a rocket - more like a missile
El Toro is 9m LOA, with an impressive beam of 7.2m, and an all up sailing weight of 1200kg, plus her crew. I think you get the picture right there. She is completely demountable, with the structural beams running through channels in the main hull and plugging into the floats. Her mast is located at exactly halfway along, and sits on the main beam, with the traveller then mounted on the aft beam. The boards/foils are located in her floats, which then means she has a very small and lightweight centre hull.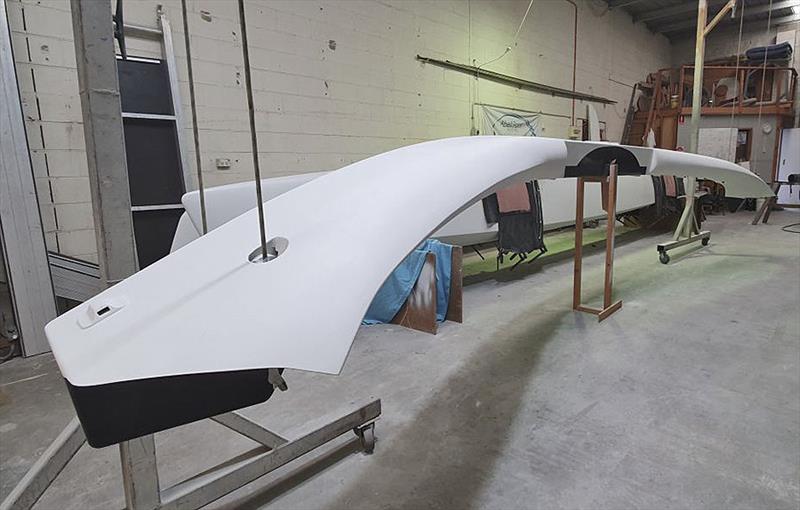 Aero fairing of the beams for El Toro - photo © Ben Kelly
El Toro is primarily GRP, with carbon reinforcing where needed, which has allowed them to keep the cost down. Equally, the OMR rule is not kind to super lightweight boats, so she is solid (by multi standards) to rate well, which means she be competitive now, and for some time to come. Her mast, boom, foils and beams are all 100% carbon. Note she has not been built to be a full foiler at launching, but this is certainly a place they can go if they choose, and the budget arrives to provide for that kind of fun.
You'll see her racing out of Manly on Moreton Bay, and also along the East Coast of Australia, but Kelly also points out that, "El Toro will also be a great platform for weekends away and joy riding on the bay with friends and family. My 11 year old son Luca is very excited about the new boat."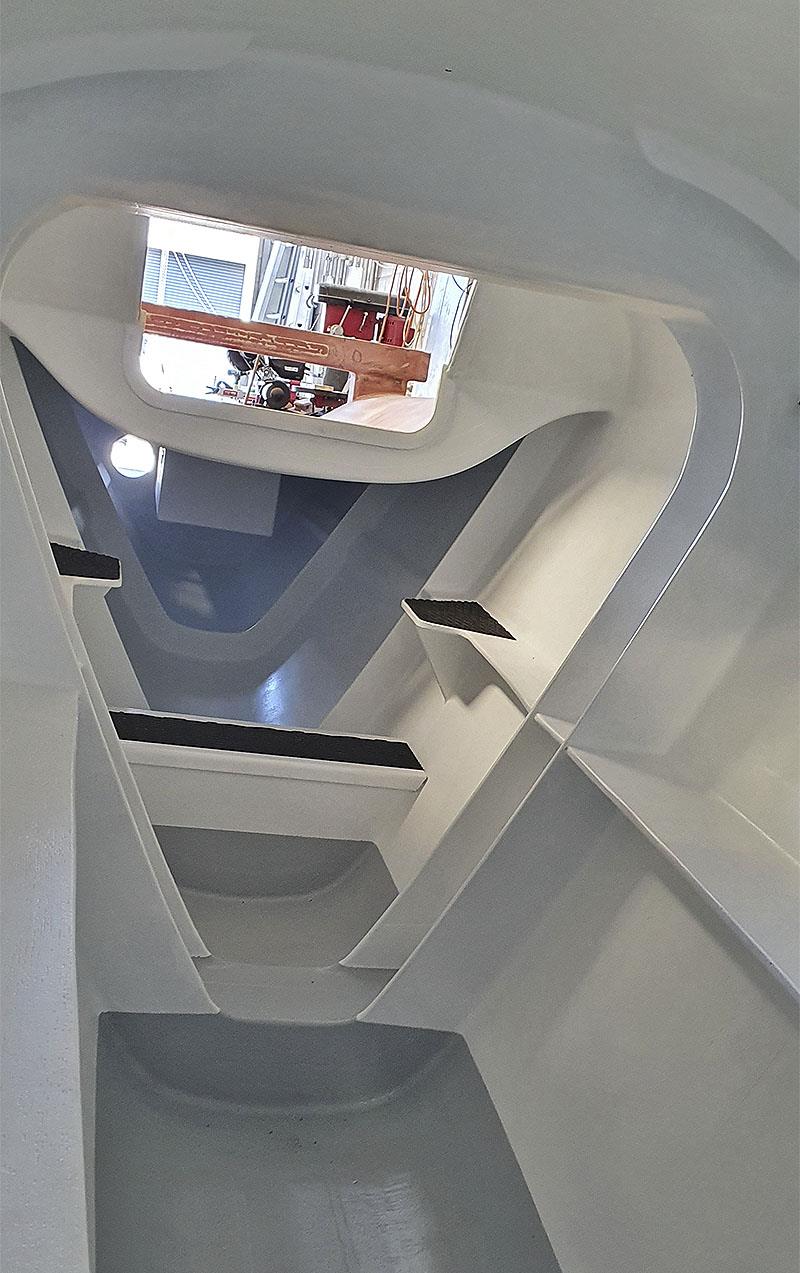 Spartan, pratical and clean - centre hull of El Toro - not the for'ard beam channel nestled in between the ring frames - photo © Ben Kelly
Sexy gear abounds
North Sails 3Di Raw will be used for her working sails, and then NPL panelled materials, along with Helix luffs, will give her a formidable, furling downhill selection to play with. "The wardrobe is reasonably conservative, and gives the ability to bring more sail area to the boat in the future, should it be required. The biggest gains in more recent times have come from North Sails incredible design systems and people, and 3Di structured technology," said Kelly.
"This will all be on show with El Toro, for she will be a test bed and demonstration vessel too (Editor's note: Lucky clients who get to go for a blast, I say!). I have enjoyed working with New Zealand based designer, Magnus Doole (designer for Black Jack, BeauGeste Mod 70, Fuku Scallywag Tri etc, and Extreme 40s), to nail down the sail wardrobe. BTW, we should be hitting the water this September. It's likely our first racing event will be the St Helena Cup in late October."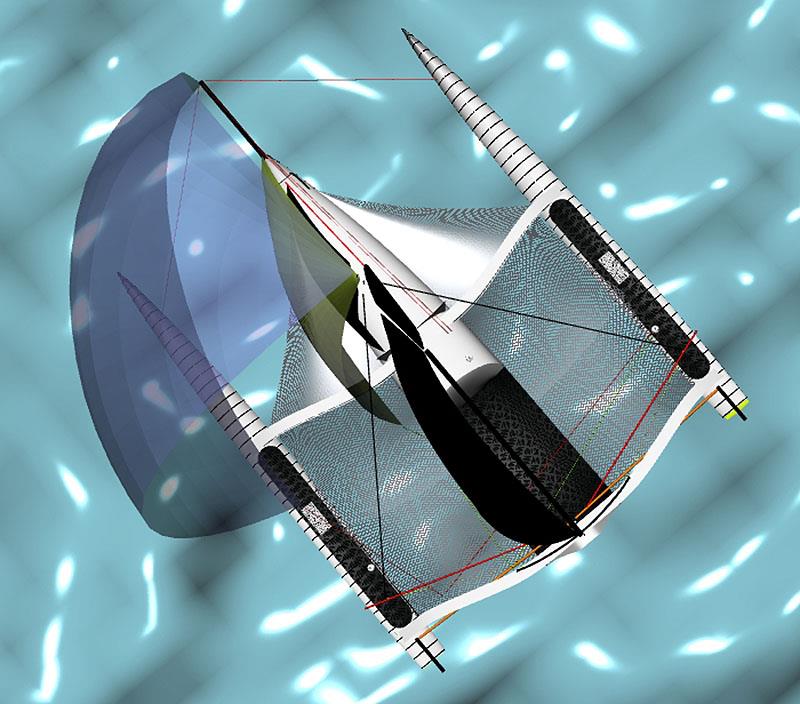 No shortage of sail aloft for El Toro - photo © North Sails
A project of this nature is always bound to inspire others as well, and El Toro will have some great brands of gear on board. "Gaelle and the team from Wichard Pacific have given great support for the entire build period. Most specifically, they have provided deck hardware like Wichard and Tye Tec fittings, loops and so forth, along with Facnor/Profurl furlers, and our Facnor halyard locks. These are incredible items and will really ensure we can extract all that El Toro has to offer."
"Joel Berg from Allyacht Spars has assisted with our Moonlight hatches, and then most especially with some custom parts to match our 14.3m long, 280mm C-Tech carbon wing mast. El Toro also has a C-Tech boom and bowsprit. Grant and Callum at Harken supplied the bulk of the deck hardware, Karver winches from Any Port Marine, and International Rope Supplies delivering a full custom package of strings," said Kelly in closing.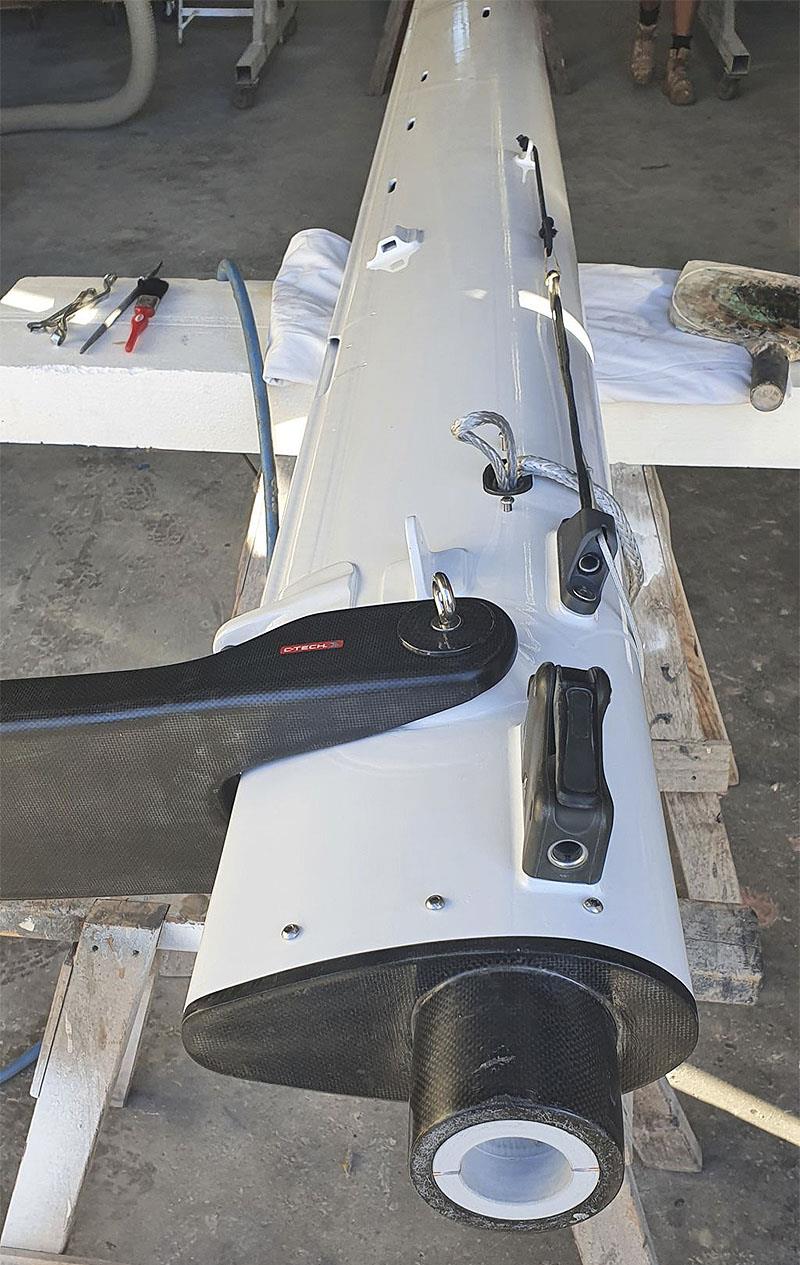 14.3m C-Tech carbon wing mast for El Toro - photo © Ben Kelly
One thing is clear, and that is that El Toro will be a marvellous test bed and showcase for all these amazing brands, and allow Kelly's clientele at North Sails the best working platform to develop multihull sails that are relevant to the OMR rule. Nice. Queue starts here BTW. Take a number...