I've been digging through some old junk and found some interesting film on the early years of the C class catamarans in the US. In the late 1960s and early 1970s the boats were transitioning from conventional rigs to wing masts. The hulls were often wood or lower tech fiberglass and could be designed and built by talented amateurs. Sealion, designed and built by Dave and Jerry Hubbard, was the first departure with a single sail on a bendy mast, Gamecock, designed by George Patterson and financed by Tony DiMauro, was the first US C with a wing mast. It's design followed his first wing masted cat, Sprinter. Greer Ellis' Yankee Flier improved the wing mast with a thicker, high aspect ratio wing. The ultimate US wing mast boat was Scimitar, designed by Otto Scheer. He and his brother-in-law, Gene Miller built it from cold molded plywood in a basement. If it hadn't been destroyed in an accident when returning from the Yachting One-of-a-Kind regatta, the 1972 challenge with Australia might have had very different results. Adding to the above mix was Meade and Jan Gougeon's "C class" tri, Victor T. It was wider than a cat with a conventional sloop rig. However, its very light formed plywood hulls, described in their book on boat building, made it nearly unbeatable in light air.
The above boats raced together in the 1969 North American Multihull Championships held in Hamilton, Ontario, Canada at the Royal Hamilton Yacht Club.
http://www.youtube.com/embed/L_BJUlVZSbQ
The old boats were clearly outclassed by Scimitar and the Gougeon brothers established themselves as trimaran designers and premier wood boat builders. Here are some pictures of the boats taken from 8 mm videos.
Victor T
sailed by the Gougeons
Scimitar
sailed by Otto Scheer and Gene Miller
Yankee Flier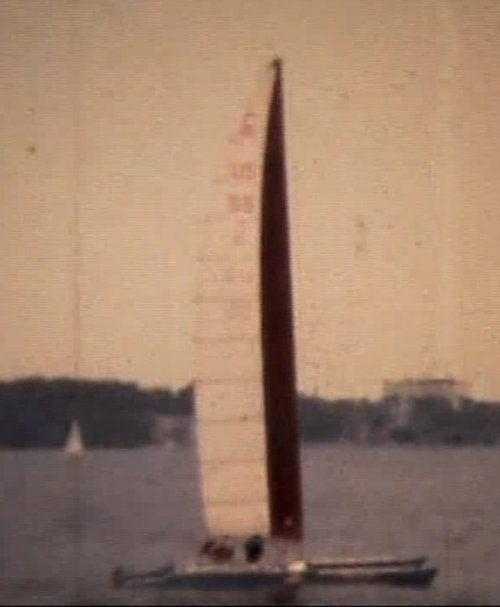 sailed by Greer Ellis?
Gamecock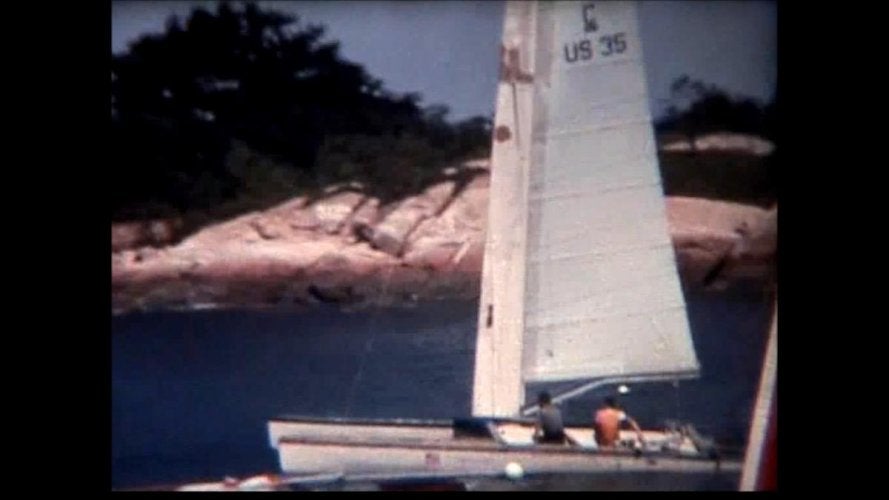 sailed by Lohring Miller
Sealion
sailed by Bill and daughter Meg Steane
Because the obvious US challenger, Scimitar, had been destroyed, a selection trial was held before the 1972 challenge. The boats were George Patterson's Weathercock, again financed by Tony DiMauro, and Bill Steane's Mountain Lion, the old Sealion hulls with a new, light weight wing mast. Some video of the boats at the race is below.
http://www.youtube.com/embed/32Ru_BK2NZc
Below also are some pictures of the boats. Weathercock won and went on to lose to the Australians.
Weathercock
Tony DiMauro & George Patterson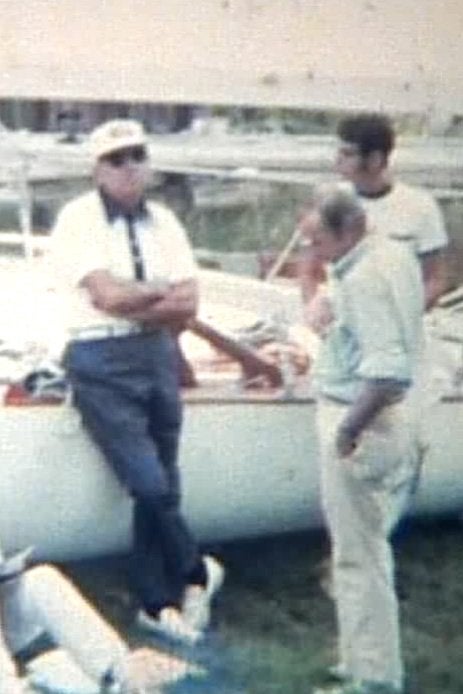 Mountain Lion
Lohring Miller
Last edited by a moderator: