As BIG WEDNESDAY approaches (Major swell from previously Category 5 hurricane Marie) one has to wonder how many more seasons we here in SO CAL can go without at least a slap on the wrist from a major hurricane. This September 21st will mark the 75th anniversary of the 1939 Long Beach cyclone. As the winter storm fronts begin to influence the steering patterns of Eastern Pacific hurricanes as we wind toward fall, several factors are coming into alignment that may make this the year we finally get a system to come visit us. Warmer than normal Sea Surface Temperatures from Santa Barbara to Cabo San Lucas are in theory making it the most likely year in decades for us to see a tropical cyclone or at least the remnants of one here in the normally arid Southwest. Here is the SST anomaly for the Eastern Pacific and you can see that the beltway between the formation area to the south of Baja and So Cal is wide open for storms at the moment.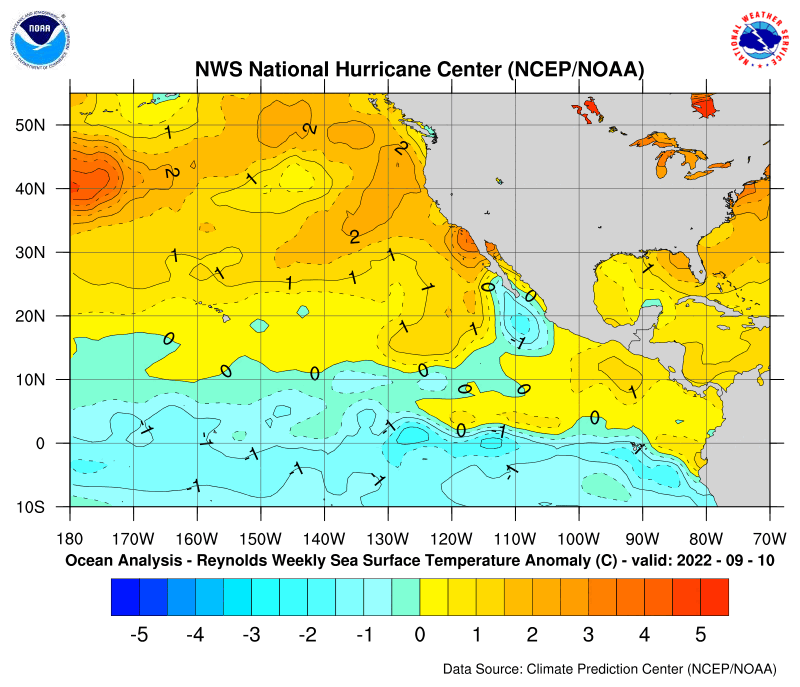 Cyclone after cyclone is traveling by to the West the water temperatures are being driven up. We may see a cool down between now and the weekend however as a low pressure system over the interior southwest will bring brisk 15-20 knot winds Wednesday through Thursday in the late afternoon and evening hours. This should make for some great sailing this week. For those of you sailing Wet Wednesday and Thirsty Thursdays entering and exiting the South or Southwestern facing channels may prove dangerous at times. Low tide in the area is around 5PM and this will represent the great chance of waves breaking at the harbor entrances. Bring your GoPro or Camera Phone to capture the scene as it should be EPIC. Post the footage here please as there are sure to be lessons learned from this surf event and how mariners deal with it. Here is a shot from Oceanside Harbor which is one of the south facing harbor entrances that is likely to be affected by this swell. The Orange County Harbors will likely feel the greatest effects though.
Other factors that may improve our chances to get a hurricane or what is left of one include but are not limited to:
Reduced shear
Ample ACE (Accumulated cyclone energy) in the incubation area to our south
Plenty of start-up energy in the form of tropical wave after tropical wave entering the far southeast Pacific.
We haven't had much in the way of natural disasters here lately (At least in So Cal) and after living here thirty years I know that trend cannot continue.
Several municipalities have seen fit to let the drainage system become silted up in many areas and have even turned a few areas in to parks (Yes, it has been that dry for years). We had less than 6" of rain in the last 12 months. A whopping total of 11 days of any rain during those same 12 months. The lack of maintenance to these critical drainage systems could prove literally fatal if not remedied before even a tropical storm comes to visit. Murphy's Law at work.
I for one look forward to a visit from a tropical cyclone as the weather here is far too mundane for my taste but the quality of the weather for the family and sports is hard to beat.
Unless you are an expert waterman, stay on the beach and watch as one of the more epic surf events in recent history unfolds and if you must go to sea, watch the channel entrances VERY* carefully and time your sets both going out and coming back in.
As always, drop me a note with any questions.
Last edited by a moderator: