I am currently making plans for adding a bowsprit to my 48 foot catamaran and am looking for some input.
I intend to use a 1700mm long, 120mm diameter aluminium tube with a 5mm thick wall. The dimensions are derived from the published weight/size specs of commercial offerings. I will add two waterstays to the bows of the hulls.   
I am not sure about the best way to connect the bowsprit to the front beam and to connect the tackline/waterstays to the bowsprit.   
I think that making the sprit swing vertically is practical idea, so I currently intend to weld  - or rather: have someone weld - two aluminium plates (with holes for a 10mm pin) with 15mm space between them to the beam. On the bowsprit side I would have a fitting plate welded to one side (see attachment). I am not even sure that such a weld is possible.  
I read about another option on the Catana mailing list: A boom gooseneck fitting with a pin is bolted to the front-beam and a delrin plug  with a corresponding whole in the middle goes into the bowsprit. The bowsprit is held on the gooseneck fitting by the backward pull of the waterstays. This seems like a very simple method, but i couldn't figure out, what kind of gooseneck fitting might work here. Is a dinghy-sized fitting big enough?  
At the front of the bowsprit I would simply bolt on an deck eye plate. This would only need to take the horizontal loads, the vertical loads of the tack/stays could be  taken by wrapping around the other side of the sprit.  
Paul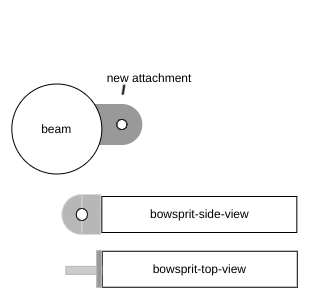 Last edited by a moderator: