This past Monday, a small class of high school students... and 3 newly-minted sailing coaches... met me at our local rec center pool with a Laser.
Goal- teach these kids, none of whom had any real sailing experience and most of whom had never been aboard a boat of any kind, how to safely handle a small boat capsize.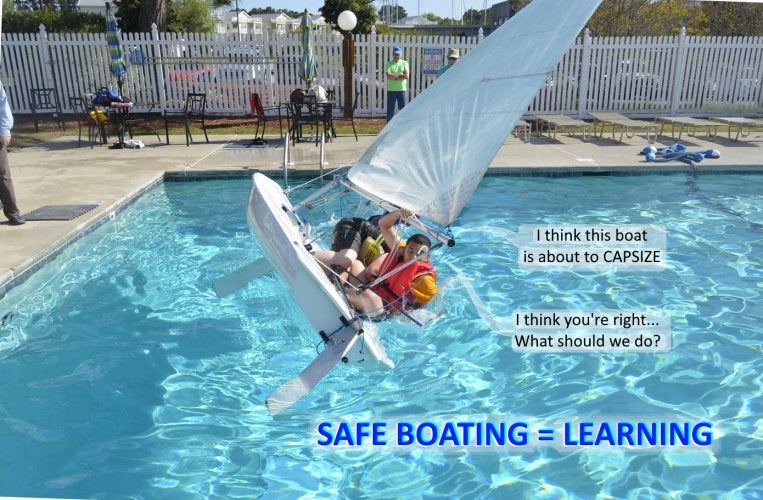 We literally start with teaching them how to get in the boat. Actually, no. We start with 3 or 4 class sessions with boats on trailers in the parking lot, where they learn to rig the boats, the words for all these funny boat-things, how to hoist the sails, and hopefully a little bit of 'boat sense.' 
The first two froze up. When these guys were afloat, they were terrified of the boom, and even more terrified of the boat leaning even a little bit. When it was obvious that they could not respond meaningfully in any way to any instruction, I pulled the boat over and coaxed them into climbing out. Less than zero point in putting them through the terror of a capsize. Two girls went first, and they did OK if a bit clumsily. They did not believe that I was teaching them the easy way, and had to experiment with a bunch of their own ideas. The next two followed instructions exactly, and it went like clockwork.
After that, I let the deer-in-the-headlights guys have another go, and they did OK. Every student performed the drill twice, once as crew and once as skipper.
Next week, sailing a real boat on the real river in real wind!!
- DSK