I just read this whole thread this morning while waiting for the wind to fill in for kitesurfing in Cape Town. Most excellent passage, Elegua, and great commentary and advice from the circumnavigators and others here. I love this place, even when guys are a little rough on me. I wish I had your confidence, Elegua, in sharing my tracker here, I kept it to family and friends. I stuck to post-trip reports in my Sailing The South Pacific thread. Maybe next year.
Just a few thoughts on things covered in the thread. I had an Iridium Go! and Predictwind and once I figured it out I loved it, mostly. The texting was mostly great, but you have to send short texts, and the replies have to be short. And eventually it would stop moving the newest texts up to the top of the list and then I had no idea out of the 30+ people I was texting with who had sent something. My wife came up with the solution of deleting text threads that were long (just read the reviews of the Iridium Go! texting app on the AppStore to see just how bad this app is, same for the email). The emailing is painfully slow and annoying, and as Evans notes, you have to constantly remind folk that they cannot send pics, forms, or any big emails. I never even tried to access the internet directly. The weather predictions were wonderful (I'm a little surprised, Elegua, that you say you got twice-daily updates, I thought mine were something like six-hourly). But what kept me the most involved was the blog ability, which on the Pacific passage I did several times a day, but after getting to French Polynesia I did every night before going to bed (and with cell service I could upload pictures, but not movies). And now I have that blog with over 400 posts as a reminder of what I did and when. I never needed the departure planning or the routing as things were pretty obvious for what I was doing, although I did get myself into a maramu and got hammered by a northern front, both of which I might have avoided with those services, but mostly it was my underestimation of just how rough things get when the wind gets to 30 knots. Finally, my Iridium unit pretty religiously stopped working once a week. The first time was almost panic mode as I had no other means of communication and my wife and others would have worried as then there were no tracker updates either. The only solution was to remove the battery and put it back in, annoying. After that I made a point of regularly reminding people reading the blog that if the tracker stopped and blogging stopped it did not mean I was in trouble, for that the EPRIBs and PLB would tell the story. I have been fortunate to have met and gotten lots of advice from Webb Chiles, but I was not interested in cutting off all communication with land, sailing that initial Pacific passage solo as my first ocean-sailing experience was enough of a "monastery of the sea" for me. In any case, it was part of the deal with my supportive wife, who loves sailing dinghies, but was not interested in an ocean crossing. And in my six months of sailing there were about 10 nights that she would have been seriously unhappy about, while for me they were just part of the adventure, something I signed up for willingly. Plus the style of sailing would have been completely different, keeping watch, being far more cautious moving about the boat, etc., although the food would have been better, etc.
You had a bigger boat than me and crew. When things got seriously rough I would go down to staysail only and bear off to a broad reach and simply let my Pacific Windpilot take care of things for me and retreat to my bunk (twice for 36 hours each). Initially I tried to keep to reaching courses, but getting slammed by breaking waves which sound like a bomb going off inside, and enduring water over the deck (first one forced water in through the 1 inch limber holes at the front of the compartment that the companionway hatch slots into, and then disgorged all the dirt that had accumulated there for 3 decades into the cabin over the chart table and galley). Everything leaked on my boat, but generally once things calmed down it dried out nicely. I sailed naked most of the time, so no issues with wet gear coming below.
I tried to keep my boat as simple and durable as possible, so no wind meters, only a simple autopilot for when motoring, and only a tiny Engel fridge, yet I had 630 watts of solar and 600 amp hours of batteries, so never had to worry about power and never ran the engine to charge batteries (but I was also in the tropics so only had one entirely cloudy day in six months). My solar is above the bimini and on the aft lifelines, so is seldom shaded, especially since mostly I was sailing downwind (see pic). I did motor quite a bit on the initial passage in the doldrums in the Bay of Panama, but still only used 20 gallons of 45 aboard, and am now much more willing to motor or usually motor-sail and now have 65 gallons aboard with four extra 5-gallon jugs on the port side-deck.
My major issues, as some here know from my various threads asking advice, were ancient original sails that started tearing at the leech (the mainsail), and original standing rigging that started breaking at the bottom swages. And the connecting rod between the vane and rudder of the 27-year-old Windpilot broke, which I MacGyvered. Nothing else broke.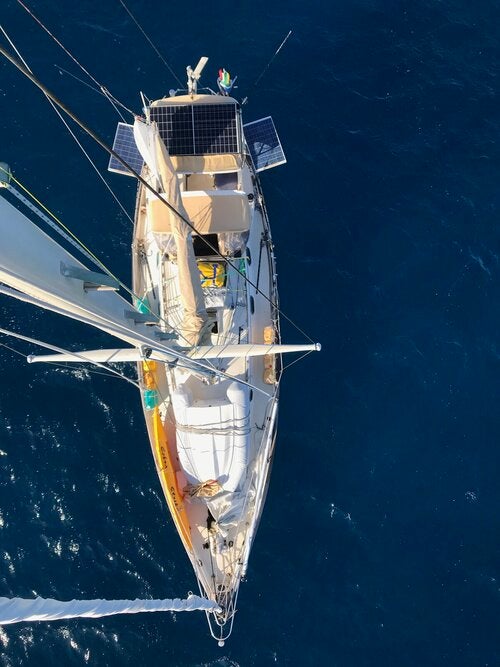 Last edited: