To the loud mouth T-10 helmsman (who, by the grace of the boat owner on the blue boat in the diagram, was able to stand on the podium on Mac Island instead of DSQ'ed) Please read and understand rule 11 and 17:
11 ON THE SAME TACK, OVERLAPPED
When boats are on the same tack and overlapped, a windward boat
shall keep clear of a leeward boat.
17 ON THE SAME TACK; PROPER COURSE
If a boat clear astern becomes overlapped within two of her hull
lengths to leeward of a boat on the same tack, she shall not sail
above her proper course while they remain on the same tack and
overlapped within that distance, unless in doing so she promptly sails
astern of the other boat. This rule does not apply if the overlap
begins while the windward boat is required by rule 13 to keep clear.
If you do understand rule 17 and by your statements on the water you don't (Unless you were trying to bullshit your way, in which case it would be a rule 69 violation, given the number of years you have been racing, this is a distinct possibility as well.) Then you owe our boat at least a bottle of rum for giving you a pass.
Our overlap on you began well before we were within two boat lengths below you, given that we were sailing at a much closer angle with our Asym AND rule 17 is clear that we may not sail above
our
proper course (which we never did) - your proper course does not matter. - read case 14 and case 46.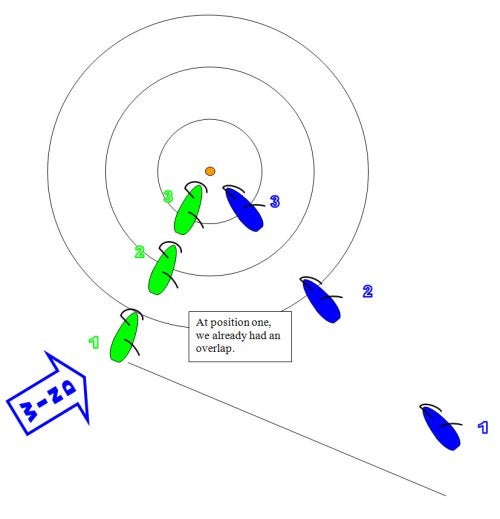 Please be assured, that if you ever, ever pull the shit you pulled at grays reef on a boat i'm on again, I will protest you, take it to the room and make sure your ass is DSQ'ed and if you scream we came from astern and it is your proper course that matters, I will add a rule 2,and rule 69 violations based on case 47.