Our build has started on our Pogo 12.50.
.
In the hope it is of interest to some of you as well as just me. I thought I'd post some of the pictures and info on the build as we progress.
The selection criteria was we wanted something that was:
fast. I've done my time in the IOR stuff, I wanted something that could plane easily, and bugger the handicap rating.
comfortable..ish. Yes i want my wife to be comfortable, but I didn't want head linings and trimmings everywhere, mainly for serviceability.
safe. Can I get that as unsinkable please?
shorthanded capable. Yes and no, this was one of those decisions that caused the most angst. As the boat will have some corporate guest duties, we have gone for the dual wheels rather than a tiller.
Cat A rated.
Our short-mid term aim is for the Qld coastal stuff in year 1, working up to S2H in year 2.
We will have a learning curve to surmount, the Pogo is a bit different to our current IOR era symmetrical roly poly rides, with no backstay, no traditional vang, square top main, asymetrical kites, etc etc.
One challenge is the build is happening on the other side of the globe.
This is ultimate faith in your builder time, the good thing is we have that faith!
So, without further ado, our first pics, this is the part of the bulkheads being infused. This one is for the starboard rear cabin. Really it is the toilet/ technical area.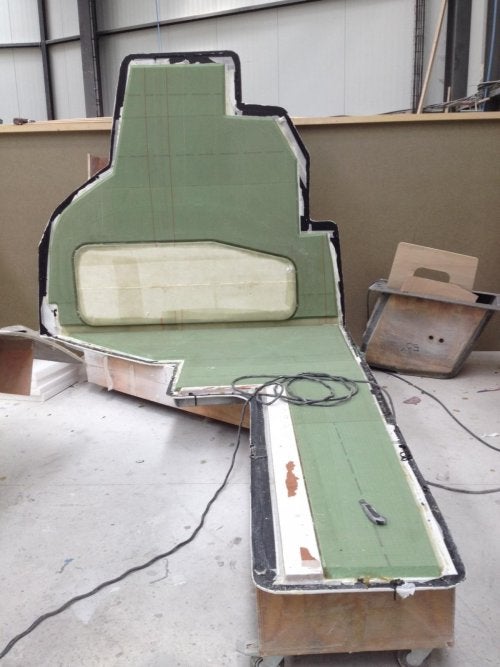 You walk through the toilet area to a rear cabin, this is an area I plan to use for storage mostly.
Pic of what it should look like on completion.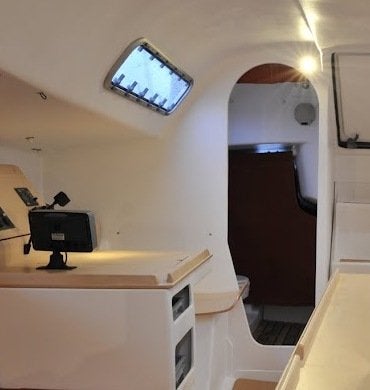 The foam is 20 mm and comes in denser grades where used around the structural areas like rudder posts , chainplates etc. The denser foam is surprisingly hard, you can't dint it with your fingernail even though it looks like normal foam.
And what the finished product should look like hopefully(edit...with dual wheels though) ..
That reminds me, I have to work out the hull colors (its a strip) next, which I am not good at. Any suggestions please let me know.
Hope you guys find it interesting! We're a bit like expectant fathers at the moment!
SB
.
Last edited by a moderator: