Capt. Marvel's Wise Friend
If the air conditioner is not working in the 'ol family truckster...
​
In all my (many) years of making maps, the most popular by far is the 70°F Road Trip map that I originally produced in 2015. It's been sha...

us-climate.blogspot.com
​
A Cross-Country Road Trip Where It's Always 70 Degrees​
An updated map from climate scientist Brian Brettschneider provides year-long interior and coastal routes that span more than 7,000 miles. ​
​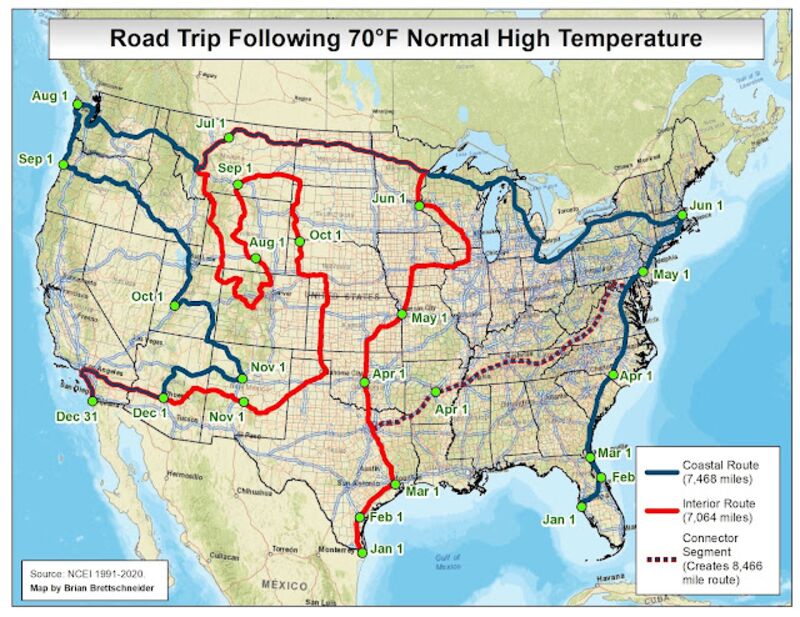 ​
The updated road trip map from climate scientist Brian Brettschneider offers multiple routes for 70 degree days. Source: Brian Brettschneider​
​
By Immanual John Milton​
May 30, 2023 at 1:29 PM PDT​
​
For travelers in search of the perfect weather, a climate scientist in Anchorage, Alaska, has mapped out the ultimate US road trip where the temperature is always 70 degrees Fahrenheit.​
​
Brian Brettschneider on Friday released an updated version of his 2015 maps that plot year-long routes across North America using daily "normal" high temperatures from the National Centers for Environmental Information. His original trips span more than 9,000 miles coast to coast for the contiguous US and more than 13,000 with an Alaska stop — the latter also draws on data from Environment Canada. ​
​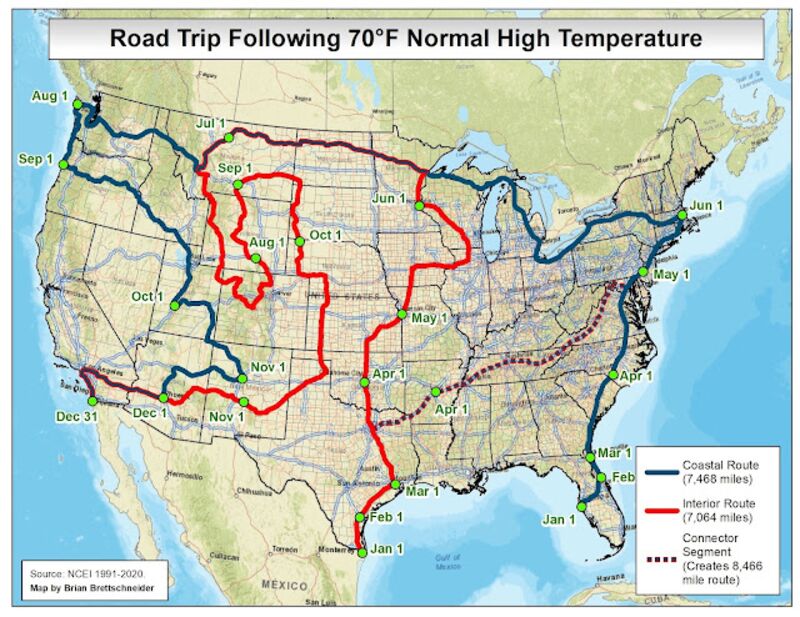 ​
The updated road trip map from climate scientist Brian Brettschneider offers multiple routes for 70 degree days. Source: Brian Brettschneider​
​
After the NCEI released new temperature data in 2021, Brettschneider got requests to update the maps, which he estimates have been shared millions of times. While his 2023 interior route is somewhat similar to the 2015 trip, a new coastal path adds an East Coast trek up from Tampa to some of the northeastern population centers before racing across the middle of the country from June to July and then gradually descending to the bottom of California.​
Both of the new routes manage to stay below 8,000 miles, unless travelers opt for a "connector segment" that passes through Arkansas, Tennessee and Virginia in April. On Tuesday, Brettschneider added an almost-14,000 mile path that includes Alaska and Canada. The route was created using a mathematical concept known as splines in the absence of updated climate data in Canada.
​
​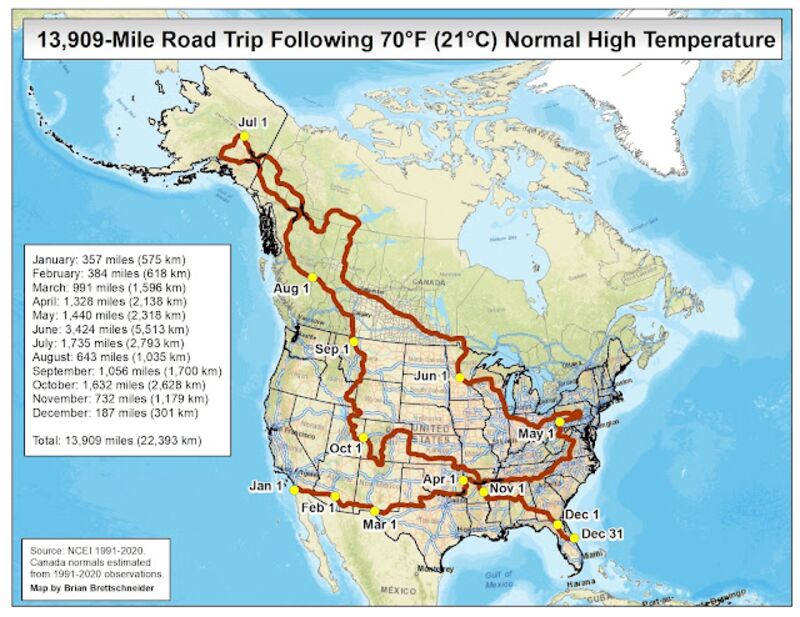 ​
The updated version of the Canada trip. Source: Brian Brettschneider​
​
"I did want to expand it and put on highways that people are more familiar with," Brettschneider said. "I have heard from a number of people who do bicycle tours, who do walking, camping and also RV people and motorcycle enthusiasts."​
​
While climate change only had a small effect on the new map, it will likely play a larger role in the future, he said. Instead of Tampa, the starting destination might have to shift north and with the warming oceans, the routes might have to move inland. Brettschneider's day job is with the National Weather Service Alaska region, but his 70-degree routes aren't affiliated with his employment.​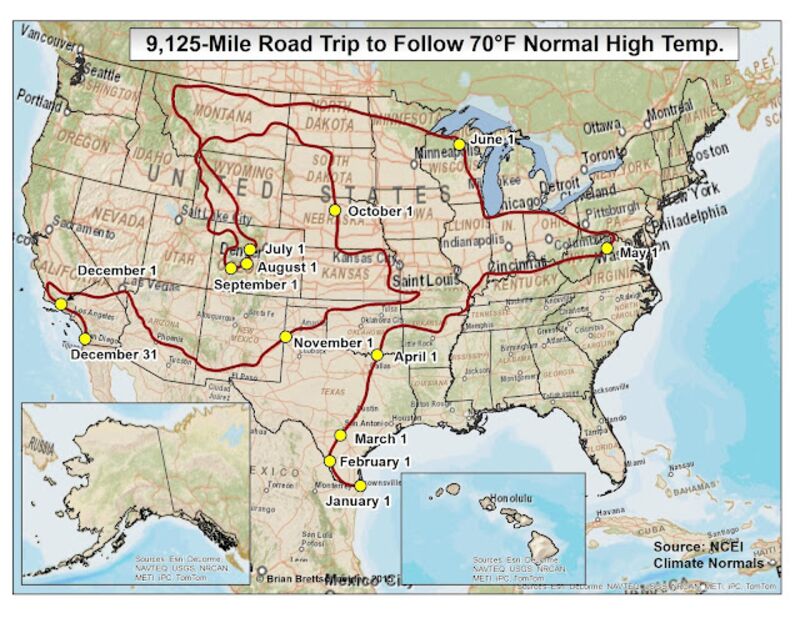 ​
One of the original 2015 maps. Source: Brian Brettschneider​
​
As an avid mapmaker who has made thousands and thousands of maps typically focused on climate, he says it's hard to know what part of his work will resonate with people. But the overlap between climate and the road trip caught fire.​
"There's a connection people have with doing road trips," Brettschneider said. "In this nostalgic way, starting in the 1950s, the interstate highway system, and car culture in the 1960s, and motorcycle culture with Easy Rider." ​
Like the first time, Brettschneider says while making the map was a fun exercise, he won't be making the trip, but he would be interested in hearing from anyone who is planning to do so.​