Marc seems to be suggesting substituting a different trade-off - adding more mass, more inertia.  And yes, that is another worthwhile thing to consider, but it is still a 'fixed' trade-off.
Ted Hood drew a lot of fast centerboard boats with this design approach - heavy, shallow draft, board only heavy enough to go down. No idea on numerical RM or AVS. I sailed his LH53 design about 5K miles in a wide variety of East Coast conditions (no breaking waves, though close once) and it was a great boat to sail. I sailed the 78' (87' LOA, see pictures below) version about 2K miles - 80 tons, drew 7', with a dagger in the rudder, and trim board right in front of the rudder, and a 10' centerboard - yes, we drew 17' board down. Both boats could carry a lot, a lot, of sail. Approaching Hatteras once in the LH53 we had near-breaking waves on a broad reach in heavy winds, and she was a little squirrelly but still very controllable.
Of course Dodge Morgan (3rd nonstop solo circumnavigator in 1986) sailed a 60' "whale bottom" centerboard Ted Hood design around in 150 days smashing the record and holding it for four years.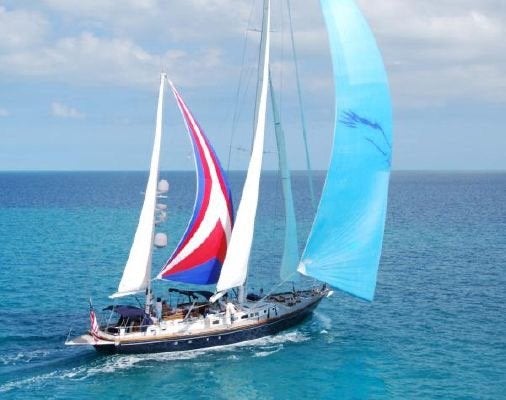 Last edited by a moderator: