Capt. Marvel's Wise Friend
Not for me, but I'm curious if this makes sense to other thread readers.
The weight/bulk alone (2.2KG / 5 lbs.) would put me off. Do they float? But to each his own. Any portable winch enthusiasts out there?
Product placement blurb lifted off Sail-World.com
Why not power a winch on your sailboat?​
by ewincher 15 Sep 09:30 AEST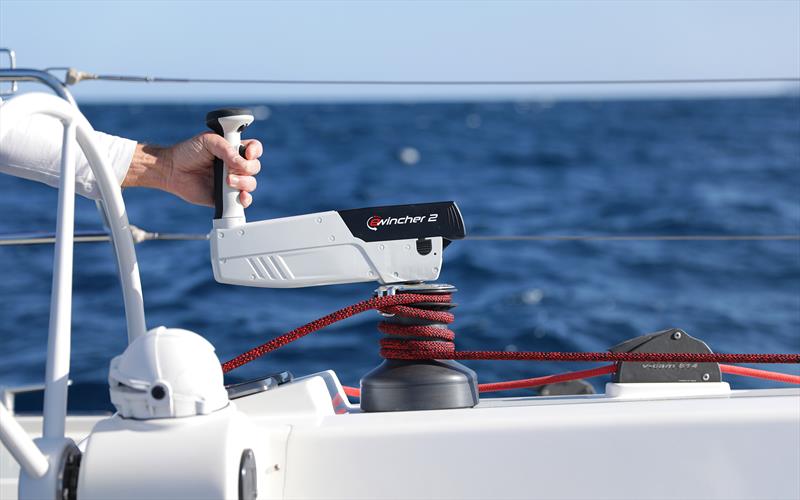 ewincher in action © ewincher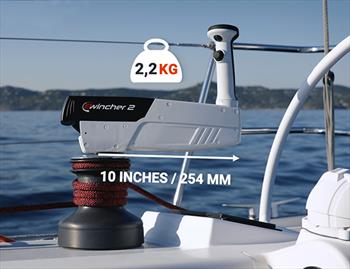 size and weight © ewincher
What about powering a winch on your sailboat?

Tired of having to grind your winches by hand when you, your friends and family go sailing? Are you frustrated with not sailing because of the lack of crew to grind those winches? Does it make you wish you had a powerboat?
If any of these describe you, we may have found the answer to your question: the innovative Ewincher2 electric winch handle.
The Ewincher was designed by sailors for sailors. By fitting any traditional winch, the lightweight, and ergonomic Ewincher converts all of your manual winches to powered winches without the cost and power consumption of an electric winch.
What is Ewincher? Why do I need an electric winch handle?
The Ewincher can be used to turn the winch without breaking a sweat. In addition to trimming jibs spinnakers or code zeros, the Ewincher can also be used to cycle in reel lines, drive top-down reelers, lift dinghies out of the water, and even lift crew up the mast safely - even a weak sailor can easily lift a heavy one. It can also be a lifesaver when a halyard is used to drop a person into the water.
The Ewincher has three operating modes:
Electric: motorize easily all your winches


Manual: like a classic winch handle


Combined: you can turn the handle while the motor is working for a higher speed
The Ewincher also has a knob to change direction, allowing you to take advantage of your boat's multi-speed winch. Its high-efficiency lithium-ion battery lasts all day and charges in 1.5 hours using a 12-volt, 110-volt or 220-volt charger. The Ewincher is an ideal addition to any boat from 30 to 60 feet.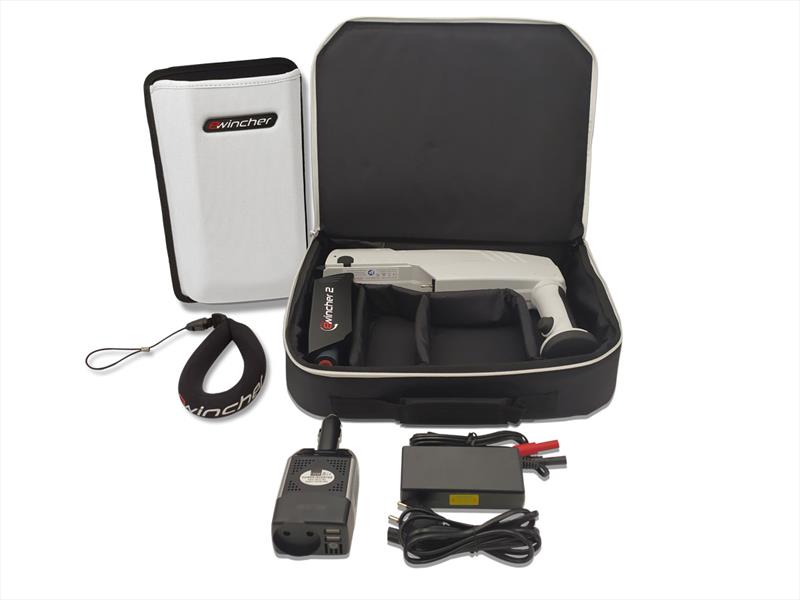 ewincher pack - photo © ewincher
Ewincher was put to the test by a specialized magazine in the US: Windcheck.
They started the test on small boats with undersized winches. Pulling up the mainsail on small keelboats like an Alerion or a Graves Constellation can be annoying. The tiny two and-a-half-inch drums are pretty useless as winches. But as you are usually only hoisting the main once, a bit of effort is not prohibitive.
They tried to raise the mainsail with the Ewincher on the high speed mode and they appreciated the easiness of the manoeuvre.
"No awkward stance from the companionway or grinding the last four feet forever!".
It was the same on the Graves' 150% genoa.
Next up, they put it on the self-tailing jib winch of a J/109. On high-speed, the jib came in too quickly. That made them aware of the importance of mastering the modes of the handle. The torque of the handle is important -90NM. After a few manoeuvres, using the Ewincher became a breeze.
Finally, they used the Ewincher on a few larger boats such as a Dehler 38, an older Frers 46, and J/120 and they got better at using it each time.
"It started to feel like we need to investigate what the handicap penalty would be for using it while racing!".
Extend your ability to sail with the Ewincher
You can easily imagine how this product might keep an older sailing couple cruising more enjoyably for years to come. Adapting your boat to your own physical condition seems to be the right solution to not give up on your passion. Anticipation has to remain a basic rule and will allow you to avoid making movements hastily and in an uncomfortable position.
With the Ewincher electric winch handle on board, manoeuvres that require strength and energy are simplified. You can take full advantage of the pleasure of sailing while keeping perfect control and feeling confident.