A part of my outboard chain-plate project was that I had to rip out a lot of the existing cabin interior on my MGC. 
While I've rebuilt the saloon backs & shelf a long while ago, I need to build some storage lockers under the deckhead.
I've been scratching my head about the best way to go about it, requirements are:
No / minimum of visible fasteners

Front panel needs to be removable for access, so no plugging holes if it can be avoided. 

Needs to be fairly strong

Here's the area in question. The shelf & main bulkhead has been painted since & holes filled etc, but you get the idea: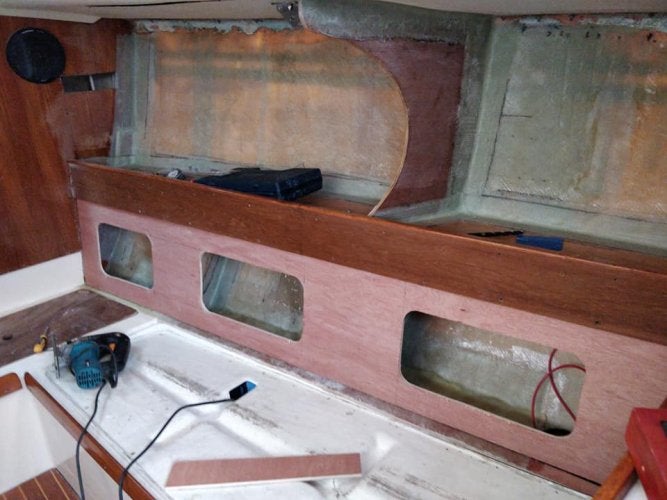 I'm looking to arrive at a shelf cabinet a bit like this: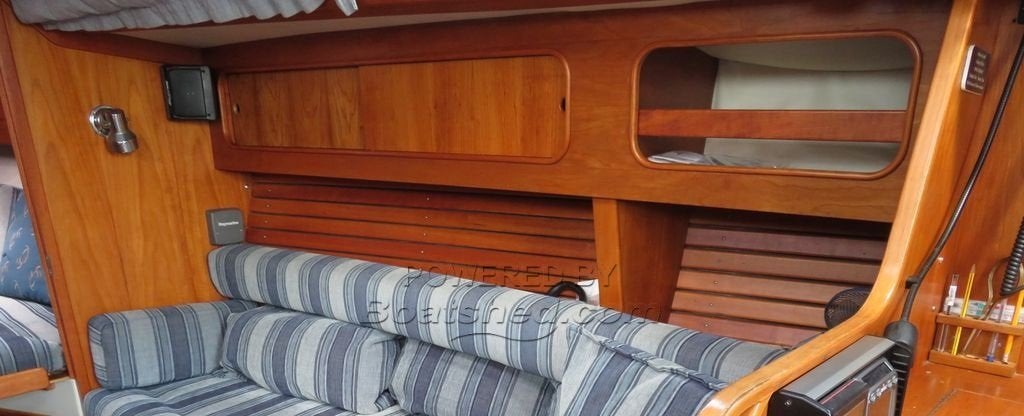 Edge trim I can take care of, as well as boxing in the stiffening web. That's all straight forward.  
In my case I may have to split the front panel in two as the web sticks out further.  
The shelf part of the locker I can fillet & glass on the outboard edge as the glass will be covered by the hull ceiling & there's no need to remove it. 
I really like the seamless no fastener look of that top example and the bottom of the face overlaps the shelf a little bit so I don't need corner trim, just not sure the best approach to go about fixing it in place. 
The plan is to use 9mm plywood which seems a good balance between strong & too heavy. 
Current thoughts are:
Wooden cleats epoxied to the deckhead and screwed in from the backside into the front. - Deckhead not especially flat on the underside, not much room to get a screwdrive in or drill pilot holes

Cleats on the back face of the front panel & screwed into the shelf. - Would interfere with the runner for the sliding doors

Screw it in & plug the holes (I really don't want to have to do this)

Screw it in & just accept there will be visible screws.

Can anyone think of a better way to go about it? 
A sheet of teak faced plywood costs more than some boats I've seen advertised these days so I want to get it fully templated up before I cut any decent ply.