"80 full time staff and 1000 volunteers"
Irish Coast Guard marks 200 years in operation​
Updated / Thursday, 8 Sep 2022
09:37 Courtesy of RTE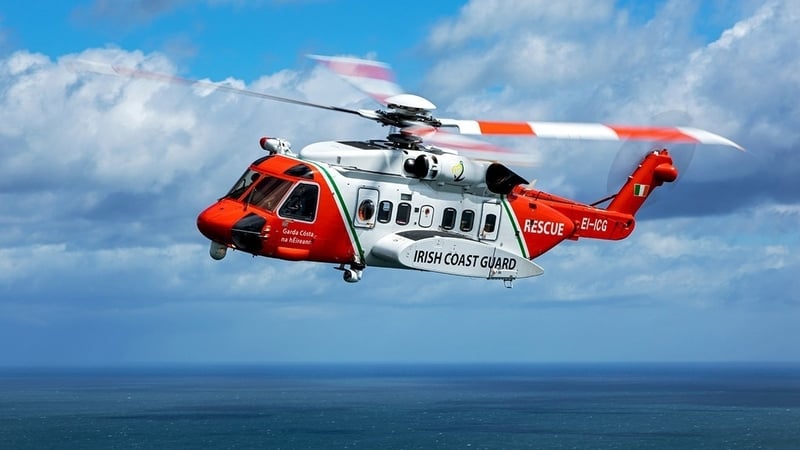 A commemorative event will take place today for the Irish Coast Guard (Photo: Irish Coast Guard)
Today is a significant milestone for the Irish Coast Guard, as it marks its 200th year in operation.
A commemorative event to mark the occasion will take place in the coming hours.
Coast Guard Unit and Support Manager Niall Ferns will today be presented with a medal for 40 years of service, while two other colleagues will also receive medals for long-term service.
Speaking on RTÉ's Morning Ireland, Mr Ferns said the service has changed hugely over the last 30 years, with significant changes in training and equipment.
However, he said that
volunteering remains a key part of the service.
"Like every other organisation, its key asset is its people," he said.
"We've 80 full time staff and up towards 900 to 1,000 volunteers.
"It's just to recognise the dedication and the commitment and the professionalism of the people that make our service what it is. That's really what today is about."
* * * *
Interestingly, flight services are provided by contract supplied by a private company.
A member vignette from the Independent.ie:​
​
'I'm the only female winchman in Ireland. I was adamant we kept the term' — Sarah Courtney​
Sarah Courtney is a helicopter winchman and advanced paramedic with the Irish Coast Guard, working with Rescue 117 in Co Waterford. Originally from Cork, she now lives in Waterford​
​
​
Sarah Courtney, helicopter winchman and advanced paramedic with the Irish Coast Guard, working with Rescue 117 in Co Waterford
​
July 18 2021 02:30 AM​
---
​
I'm the only female winchman in Ireland, so when I started, the lads and everyone said, "What do we call you?". They just call me winchman and that's how it should be. It's a generic term but just because the word 'man' is in it, that doesn't make it specific to gender.​
​
The patter on a job is a learned language and it's crucial that no words are thrown in there that can be confusing, like what you call someone in the moment. There's no time for interrupting, or pausing, and every second counts, so I was adamant we keep the term winchman.​
​
It's not about me being a female and it's kind of refreshing to highlight to people that it's not about gender, it's about doing the job. The job makes no concessions to being female; you can either do it or you can't, so gender really isn't an issue.​
​
I'm winchman on Rescue 117, which is the Waterford-based Irish Coast Guard Rescue Helicopter. CHC Helicopter is the company we work for and they provide search-and-rescue services to the Irish Coast Guard. There are four bases nationwide in Waterford, Dublin, Sligo and Shannon.​
​
A lot of the types of jobs we get are search and rescue, missing persons, responding to offshore trawlers, people working on tankers or any of the ferries.​
​
There is a huge number of people on Irish waters all the time, and, since Covid-19, people have been flocking to the coastline, but also people are hiking more, so we respond to a lot of mountain-rescue calls of people missing or injured in inaccessible places or high up somewhere.​
​
There are four crew on a helicopter call. Up front, you have the captain and the co-pilot, then in the back there is a winch operator and the winchman. The two in the back have to be, at minimum, a paramedic, but I'm an advanced paramedic.​
​
The glory shot of the job is always the winchman, because we go out the door and on to a moving deck or a cliff face and the risk is there, but the winch operator has the responsibility of guiding and gauging everything properly, engaging with the pilot and managing all those components, as well as then participating in treating the patient when they've been retrieved and brought on board.​
​
You start as a winchman, and then gain a lot of experience before you can be a winch operator.​
​
In 2008, I trained on the first ever National Ambulance Service Student Paramedic course. I had first had the idea of a career in the ambulance service after my sister was in an accident.​
​
She was lucky, she was fine, but I while I was in the hospital with her, I was really interested in the medical area. I thought of medicine or nursing, but once I considered the ambulance, I was bulletproof on it.​
​
For 12 years, I worked for the ambulance service in the midwestern region. I started as a paramedic and then trained as an advanced paramedic. As an advanced paramedic, you have a different level of skills, such as advanced intubation and life support and different medications you can use.​
​
I worked as a solo responder in a rapid-response vehicle, so I could respond on my own or be called out to give a different level of support to an ambulance crew.​
​
A few years ago, when I heard they were doing recruitments, I went for it. The process is very thorough and they leave no stone unturned in assessing if you're able for the work. There are nine stages over one year, from fitness and strength to aviation, water confidence, a flight test, medical aptitude, psychometric tests and an interview.​
​
CHC are quite proactive making opportunities available to women and encouraging women to apply for this kind of work. I love my job. It's not until you're in it that you get what's involved and it's quite niche and specialised, but I'm passionate about it.​
Last edited: