fucking unbelievable.
Would anyone who thinks that Australians up north are not racist shitbags, please close the door quietly.
One could say that there's always a few rotten apples in the gunny sack, but how many of his co workers knew his attitude and ignored it or joined in.
Zachary Rolfe​
In the texts, Mr Rolfe brags that he has "laid into" Aboriginal people, and in several of the messages he refers to them as "n***as", "c**ns, and "neanderthals".
In one message, sent from Mr Rolfe in March of 2019, he said:
"I'm out at Borroloola, a random community on the coast, 'cause they're rioting. But we came up last time they did this and smashed the whole community. So, this time, as soon as we arrived, they started behaving."
In other exchange, Mr Rolfe is heard saying he "likes" to "towel up" Aboriginal people, which the coroner heard meant "beat people up."
Mr Rolfe: "Oi, if you're hungry, you're definitely allowed to towel locals up."
Fellow officer: "If your last name rhymes with Olf, you're allowed to towel up locals."
Mr Rolfe: "I do have a licence to towel locals. I like it."
The coroner heard in another text exchange Mr Rolfe wrote that "those bush c**ns aren't used to people going after them".
Sergeant Jolley told the coroner these were not attitudes that she had heard previously expressed by Northern Territory police officers.
Zachary Rolfe's lawyers previously objected to the text messages being included in the inquest. (ABC News: Che Chorley)
Allegations of 'acting' for body-worn video​
In another text exchange read out to the court, a fellow police officer apologised to Mr Rolfe for "losing" his "s***".
Other officer: Stress you didn't need. You sorted it well. I just had enough. He was the second person to press my button that night.
Constable Rolfe: "Bro, there was literally no stress about it. I'm all for that shit. I've done the same thing to you more than once, before. I'm always ready to make my camera face the other way, and be a dramatic c*** in the film, ha ha."
Other officer: "And the Oscar goes to."
Constable Rolfe: Ha ha
Sergeant Jolley said she had never heard of officers "acting in a particular way after they turn their body worn video on".
She told the coroner the allegation was "surprising" and warranted discipline.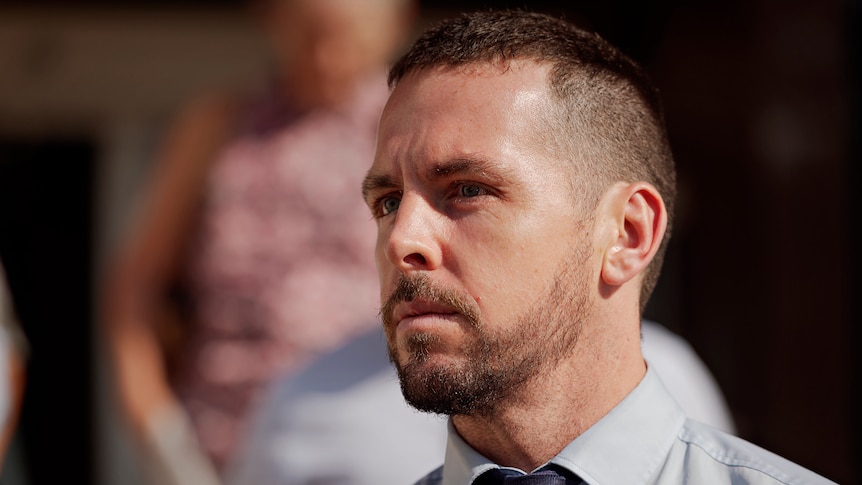 Text message exchanges between police officer Zachary Rolfe and colleagues have been described as "disgraceful" and "threatening", during the inquest into the death of 19-year-old Kumanjayi Walker.
www.abc.net.au
Last edited: