I've been anticipating doing this for a couple seasons. I'm struggling more and more with overboard discharge these days, that's the main reason for this change. 
I talked/corresponded quite a bit with two users I know and trust.
One couple with an Airhead cruising/living aboard full time overseas. 
The other couple with a C-Head coastal sailing in Maine pretty much as we do. Also very happy. 
Their experiences made for an easy choice: C-Head. We just didn't need the capacity of the Air head.
So online I check specs on the C-Head to fit our space. We have a raised platform due to hull curvature, like our friends. C-Head had a model that fit the ledge fairly well. None of them fit most boat heads that well as they're bigger than most marine heads. Several emails with no response. I finally connected with somebody at C-head via facebook messenger of all things. I sent a photo and specs of the space. That model was discontinued. He would go through their storage thinking they still had a few of the discontinued available. 
A week or more later, no response. I went back to emails and through messenger to try to re-connect. No luck. Should I have called? Maybe, but phone calls seem a tedious mode of info/detail exchange on a subject like this. Blame raising millennials. 
Meanwhile, I stumbled onto this. When I realized it was electric, I passed - at first. I'm enjoying removing another complex system, plumbing granted, but still maintenance/repair heavy (I have 3 boats and nearly 40 years mostly with a family of 4 using marine head/holding systems).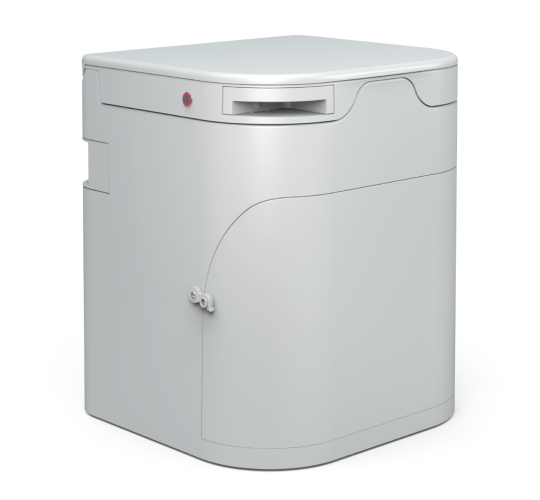 But after some thought and no reply from C-Head, I kept going back to check the design. 
https://ogotoilet.com/
A smaller footprint than the C-Head. That would help with the raised platform. 
One mention from my friend with the C-Head was the daily urine container draining. OGO is nearly 3 times the volume, and like Airhead, spares are easy to get. 
On the electric auger: It's too new to tell how that will hold up but each important component; the container with the augers (and seal), and the motor, are seperate and replaceable. The more I researched, the more I like the idea: Slide solids door closed, press button - auger works for 2 minutes and shuts off. 
The light when the urine container is nearly full: That's a good thing from what I read from all composting toilets. 
C-Head claims you don't need to vent. I believe them, but,...the vent arrangement on the OGO just makes sense for me on our boat. With light usage - weekends, solid waste capacity means likely weeks between removal.
A muffin fan pulling air through the composting toilet housing and sending it out a small clamshell on the house makes sense to me. Our head has a 4" cowl vent on a dorade box so it is very well vented but I like the idea of the composter having it's own air circuit. 
Then, the design for use all around just seems an improvement in most areas of use. I'm not squeamish (I remember changing diapers) but there is a huge difference between an 'outhouse' and your toilet at home. This design leans away from the outhouse,... a bit more than some composters. 
It's a done deal and ordered, and the best part can begin ripping out head, holding tank, pumps, valve, yards of hoses. I'll even zip off the 1 1/2" thru hull, original, that's about due for a new one. It smells better in my mind, already. 
I don't know what life will be with a composting head (I've used them ashore of course) but I'm already on the other siding of storing waste in the slurry form on a boat. 
This new simple waste system keys into my quest to simplify our life on the water as well as extend the time systems (fuel, water, provisions/ice, trash/waste treatment) affect where/when we sail.
I've named it, R2-D2. 
Last edited by a moderator: