I'm looking to build some new shelving and cupboards in my saloon for a bit more stowage, and while I could just knock it up out of plywood, I'd like to try and save some weight if at all possible and try and come up with something a bit lighter than 12mm plywood all around.
Here's a rough idea of what I want to achieve, an extra shelf at the aft end & 2x lockers at the fwd.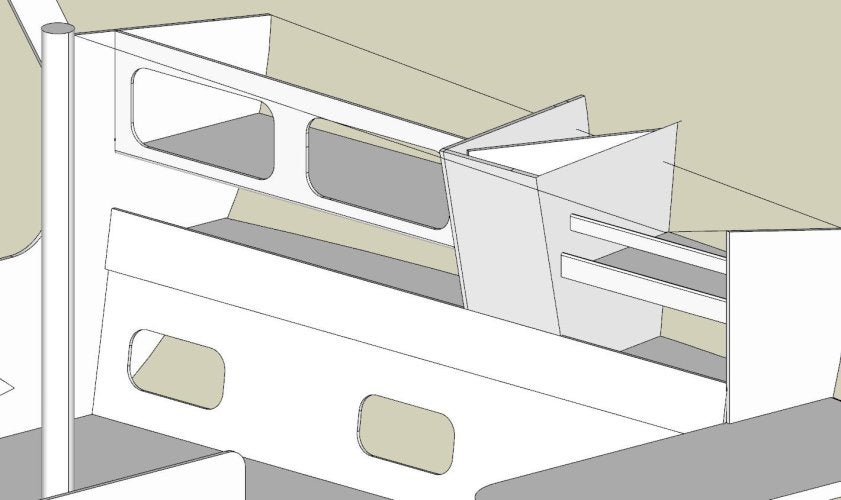 I'm guessing foam core is the way to for this?
I'd like to veneer the visible surfaces at least with a real wood veneer which should look nice against my main bulkhead.
The 'bottom' of the lockers &  shelf I'll glass to the hull for some stiffness & it should also support i along the length, some questions I have:
Will 1 layer of 300gsm each side be adequate for this purpose? (with a veneer epoxy bonded over the glass)

For the non structural bits like the fronts & dividers can I get away with epoxy bonding the wooden veneer directly onto the foam rather than glass?

Do I need a 'balance' veneer on the back face like I would with plywood?

Does the core need to be solid in way of the fixings like hinges & catches?

I'd like to make all of it apart from the shelf removable for access, was thinking some hardwood stock bonded to the back face & then screws into the shelf / deckhead inner liner

Does it all need to be vacuum bagged to look good, or can I get away with heavy weights to hold it all down?

Assuming here the best thing is to make it in seperate pieces then assemble, I guess if I was feeling clever & I patterned it well I could make the shelf bottom and front from one piece of veneered foam core material & then kerf the backside so it could bend for a nice cuved transition between shelf bottom and shelf front.
Or if I'm completely barking up the wrong tree, are there better ways to do this? Framing etc.
I realise the weight savings may not be worth it, but I'm treating it as an interesting project / practice new skills etc.