Hey all. This is my first post but I have been lurking for sometime now.
I am in the middle of a complete refit of a Pacific Dolphin 28 (Yankee 28) that had been setup with midboom sheeting. There are 3 bails on the boom so I am assuming it was a 5:1 setup originally, not sure and there is not a lot of info on this boat that I can find.
Anyways, I am thinking about setting it up like this: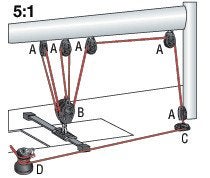 My question is, would I be able to use low friction rings in place of the blocks labeled "A" in the diagram? Has anyone done this successfully and if yes could I get some photos please?
Cheers!
JoJo