The "Pure Multihull Porn from the mythic front page"  thread and videoos were excellent and got me thinking about the evolution of these big boat classes

The ORMA (Ocean Racing Multihiull Association) was a official racing rule propagated by the ISAF  (now "World Sail") in 1996 and active until 2007.   So, sort of like an oversized Formula 18.      The  MOD 70 (Multihull One Design) was created in 2009, and claimed to serve as the successor. 
These were already a very different thing (Development Rule class vs. One Design class).    How successful were they?    
According to Wikipedia the class: 
"

suffered many failures at sea, including capsize.

[2]

 In one famous race, 2002 Route du Rhum, only 3 of 18 starters managed to complete the race. This eventually led to the abandonment of the class by sponsors." 

...

The one design Mod70 was created to continue the heritage of large blue water racing multihulls, while addressing the issues that had arisen with the ORMA 60 designs.
MOD 70 said there was a "strict quota" of 12 boats, and seven were built.  Looking at the site it doesn't seem like the whole series racing idea ever really took off.   According to there web site 5 boats raced in 2012, and since then it looks like individual boats have entered a few races under open rules.  The One Design series racing thing never really took off,

I  don't know how any ORMA 60's were built, but it seems more than 7 - which seems to be the most claimed by Mod 70.   So, despite the supposed danger of the 60's it seems like it was the more successful class.   MOD 70 claims these design advancements: 
SECURITY – RELIABILITY – PERFORMANCE
1) Smaller sail area (5%) providing more safety when ocean sailing 2




2) Longer central hull (10 ft) to minimise pitchpoling 3




3) Raised beam clearance to reduce wave impacts 4




4) Possibility to lift the centre hull rudder




5) Curved foils for more performance and safety 6




6) Shorter monolithic canting mast (+/- 8%) positioned further aft in the hull 7




7) Low temperature cured carbon fibre & foam sandwich construction



So is the 70 the better boat, as the designers claim?   Obviously "bigger is faster", but the 60's had the longer mast.   
There was no requirement in ORMA that all three hulls on the ORMA boats be the same length - if "long in the middle" were faster anyone could have built one that way.  (And in fact ORMA permitted cats as well as tris, I believe) 




Obviously raised beams, curved boards, lifting rudders make sense.  Some later ORMA boats had  some of these features, and I don't believe  the rules prohibited any of them. 




The beam on the shorter ORMA was wider than that on the longer MOD 70.   From the MOD 70 site:

Measuring over 10 feet in length (21.20 metres instead of 18.28 metres), the MOD 70s are less beamy than their ORMA ancestors, the latter reaching 18 metres.;




:But- ORMA had a max beam, and most builders took advantage of it, but it wasn't required to build to the max permitted.  A 60x40' boat was rule legal.   Is there some new consensus on ideal beam for a trimaran now? 



So, which was the better boat?     The formula 60s seemed to result in a bigger field.  And the boats (the newest being over a decade old at this point) are still winning in head-to-head races against the supposedly superior MOD 70 and setting point-to-point records, like Mighty Merlot.   

The supposed danger of the ORMA 60s seems based on one race, which was a tough race.  It was a long single-handed race.  It's may be easier to gut extreme weather out without worrying about capsize, so naturally most of the big multihull competitors chose to "abandon" as the French site on the race says.   So did 5 of 17 sixty-foot monohulls, though.   I don't know how many of the boats actually capsized or were destroyed in the race, perhaps a couple. 

Was the MOD 70 a detour that has turned into a dead-end for ocean going multis?  Should the ORMA rule be revived, modified or replaced with a new rule that allows multiple builders and new innovation into this space?   Isn't a development class for multis of this size and cost inherently more interesting, and doesn't history prove that at this point?  Clearly we had not hit the apex of multihull design in 2009, where we pretty much knew everything interesting about how to build an ocean going multi. (Which one would be hard pressed to even claim for a more traditional monohull ocean racing category today).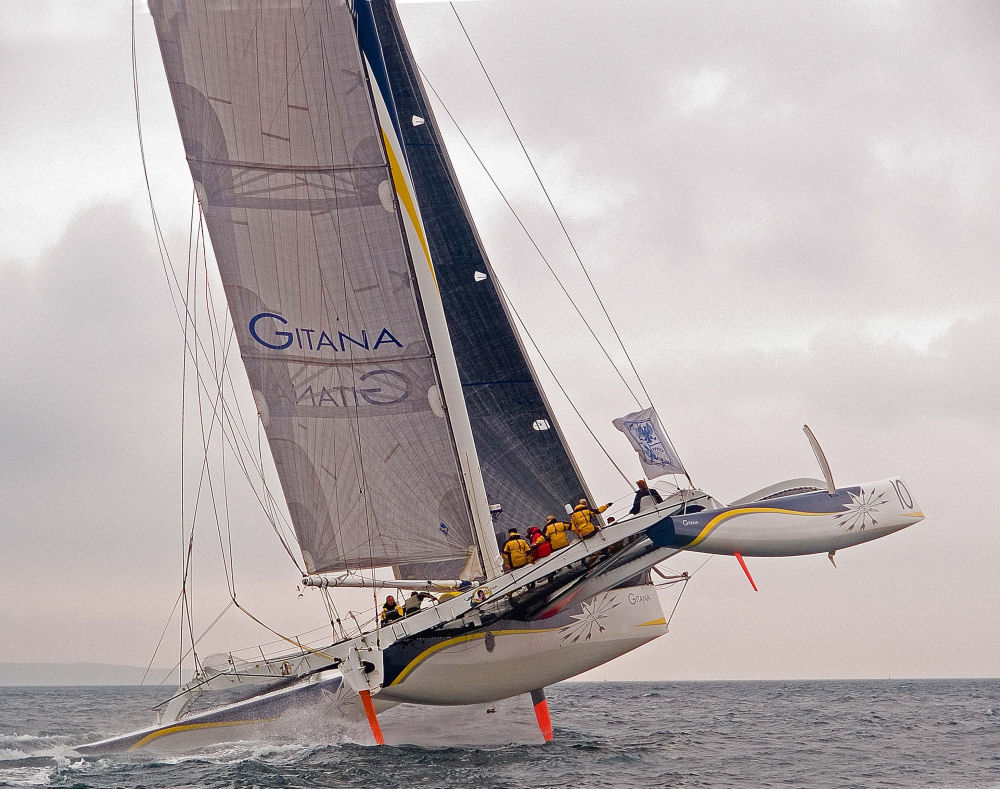 ORMA 60 shot by Tim Feak Photography. 
Notes: 
https://en.wikipedia.org/wiki/ORMA_60
https://en.wikipedia.org/wiki/MOD_70
http://www.multionedesign.com/en/
https://www.sailingworld.com/sailboats/mod-squad/
Last edited by a moderator: