Hi anarchists, a warm "moin" from north Germany!
I would like to introduce you to a new member of the proa family out there in the world: Pro
asis!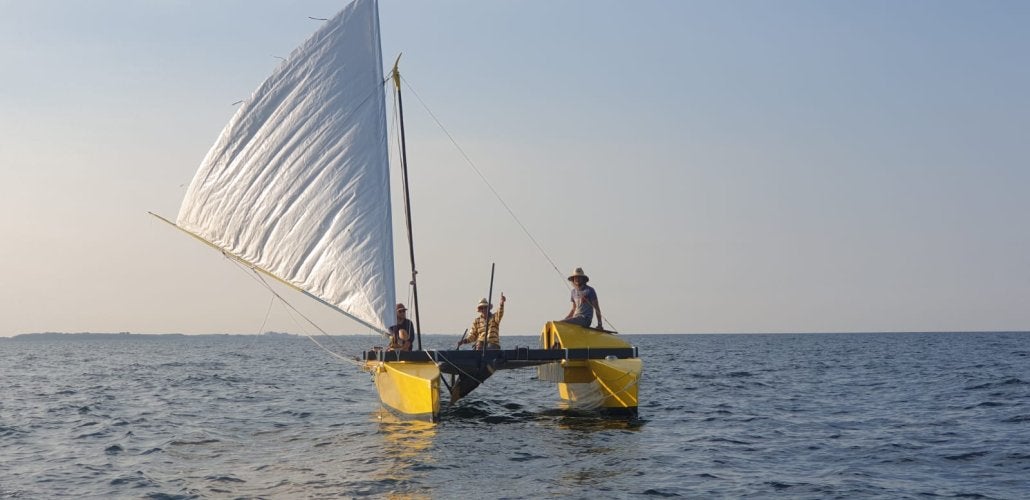 Proasis is an 9 m long shunting outrigger canoe with a comparable large windward hull for some accomodation (kind of drua style). She has a traditional Marshallese sail and an unique double-kickup rudder system. We have designed and built her as part of the Proasis-Project on a budget of  4000€ (that includes everything, even the cost for renting a workshop and transporting the hulls to the water) the past two years and launched her last week.
The entire process from the first sketches over model tests and mockups to the sailing boat is documented on our website: www.proas.is. You can find a first video of her sailing on my youtube channel. We will post more videos like a boat tour, details about shunting, the rudder system and performance there, so make sure you hit like and subscribe if you want to get updates.
The proasis is not just about building a proa for fun, we have an important agenda: Due to the devastating effects of climate change, a rising sea level is eating up the shore lines, causing soil salination and squeezing out the freshwater lenses of islands or low lying coasts. 

 Up to 80% of the  human population lives close by the ocean side and will be affected in the coming decades. The Marshall Islands are already affected by climate change today, the small island nation is literally fighting to stay on the map!   The scientist's predictions doesn't sound very promising: a couple of decades, or half a century until the islands will be uninhabitable due to the rising sea level! The population will be forced to leave their ancestors homeland – a cultural genocide.
The Proasis Project cooperates with Waan Aelon in Majel (WAM), a Marshallese NGO dedicated to traditional sailing canoe building and the transition to emission free shipping. Prosis will serve as research and development platform for inovative solutions to implement in small island countries. At the same time we hope to get some attention with this unusal craft to support ocean and nature conservation.