It's springtime, 1975 and the 685 boat is steaming north from the USVI bound for TOTO. Just commissioned the previous December, SSN 685, USS Glenard P. Lipscomb, is the newest nuclear attack class submarine in the US Navy. It's keel had been laid in the same shed as, and only 6 months ahead of the first two 688 (Los Angeles) class attack boats.
The 688s were going to be the biggest, baddest, fastest and quietest attack boats ever built by anyone anywhere. The only problem was the designers couldn't agree on a propulsion plant. Some felt the latest generation turbine reduction plant would do the trick, others felt the turbine-electric plant first built to power USS Tulibee, SSN 597, could be expanded to drive the much larger and heavier 688s. Tullibee was a smaller boat that was designed as a sonar platform and until now had been the quietest nuc in our fleet.
Enter the 685 boat, whose sole purpose was to test the new, enlarged turbine electric driven propulsion plant, and presumably, if successful, continue on as a one off fast attack boat.
To that end the 685 was designed to very similar dimensions, shape and weight as the 688s and with only a few months head start on them the race was on to prove the new plant's capabilities.
Initial sea trials in the north Atlantic had gone as per usual and the boat had proceeded south to receive some final tweaks and go through the scheduled sound and speed trials. Things were proceeding well until we made port in Roosevelt Roads, Puerto Rico, where we were scheduled to have the hull degaussed.
The procedure involved wrapping the hull in wire from dome to rudder, inducing electricity through said wire and spinning the boat in circles on it's own axis to lose the magnetic signature it had gained being built in the shipyard at Groton. Things went bad here. The boat was towed out into the turning basin in Rosey Roads, where the Emergency Propulsion Motor, a small podlike drive unit that usually lives retracted into a main ballast tank, was deployed. It could push the hull up to about 5kts and was designed as an emergency measure if main propulsion goes down.
Apparently bathymetry in the harbor wasn't current and the EPM struck the bottom bending it's deployment shaft slightly such that it wouldn't retract fairly into the hull. This was not good, made a potential source of turbulent flow and thus noise, and had to be repaired quickly while in RR. The CO was not happy as this boat was under intense scrutiny from the SecNav and CNO all the way down. He really wanted this problem to go away, and quickly.
I was one of 3 ships divers involved in measuring, making drawings, implementing and observing various attempted repairs and we were kept very busy for the 2 weeks it took to come up with a fix. During this time we also discovered some damage to the bottom of the rudder and spent additional time measuring, drawing and describing that, a difficult job because there was only about 18" of murky water under the rudder while at the dock. The Captain's mood got even worse and pretty much no one asked for liberty until things got fixed.
Fortunately, it was determined the rudder damage occurred while in the floating drydock at Electric Boat in Groton and they would have to repair it there upon our return, so after the EPM repair was completed we continued onward to St. Croix where we had a pleasant 3 weeks of daily ops out of Fredriksted, each evening returning to the large pier there and each morning 1/3 of the crew got a day of liberty ashore.
The job here entailed each morning getting underway, going out about ¼ NM off of the pier, diving (St. Croix, being surrounded by very deep water, had steep sides so we didn't need to transit far to get the minimum 100 fathoms under our keel needed before diving), and making several passes back and forth on a sound range operated by Raytheon. The object was to start and stop various equipments to determine noise sources, correct them and determine what the optimum quiet condition might look like before heading north to Tongue of the Ocean, a very deep, very little trafficked and hence quiet sound in the Bahamas, where we'd find out how fast and quiet this baby actually was. The daily ops proceeded with no major upsets, the Captain's and XO's moods lightened and the crew relaxed and enjoyed some much needed R&R.
Incidentally, only a few years before us, USS Sturgeon, SSN 637, conducted similar testing at the range at St. Croix, having just come out of a yard overhaul and having to verify that they hadn't developed any weird new noises. Apparently there was a mis-communication over the underwater phone and no one told Sturgeon one particular run was over and they accidentally ran into St. Croix, crushing their sonar dome. I ran into an old shipmate from my time on Dogfish a while later who told me the story. He was Chief of the Watch on the Ballast Control Panel when they hit and got into some trouble for initiating an EMBT (Emergency Main Ballast Tank) Blow before getting the order from the OOD or Dive Officer. He said he just picked himself up off the deck, hit the Blow button, sat back on his stool and waited for the turbo feces to fly.
St. Croix suffered no visible damage.
I know, I promised a sea story and I swear, I'm getting there. Be patient, it required a little forestory to fully develop the mood and I'm on vaycay for a while and will continue when I'm not busy having fun.
Here are a few pics of Tullibee, the original turbine electric driven boat (the one with the weird sonar appendages) and Sturgeon to tide you over…
Tullibee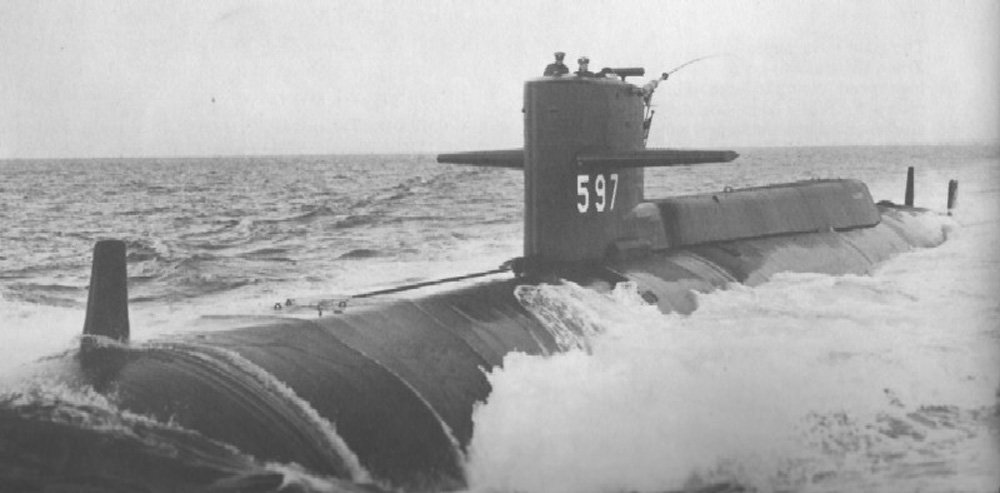 Sadly, I can't find the pic of Sturgeon's crushed bow, so this pic of an EMBT blow from test depth will have to do...