While doing searches, I came across this forum and found my Dad's name (Bill Homewood) in here and a question regarding the whereabouts of my Dad's old trimaran, "The Third Turtle". A VAL 31, Dick Newick design. I responded to that old thread but didn't see it pop up probably because I'm new here?
The 1980's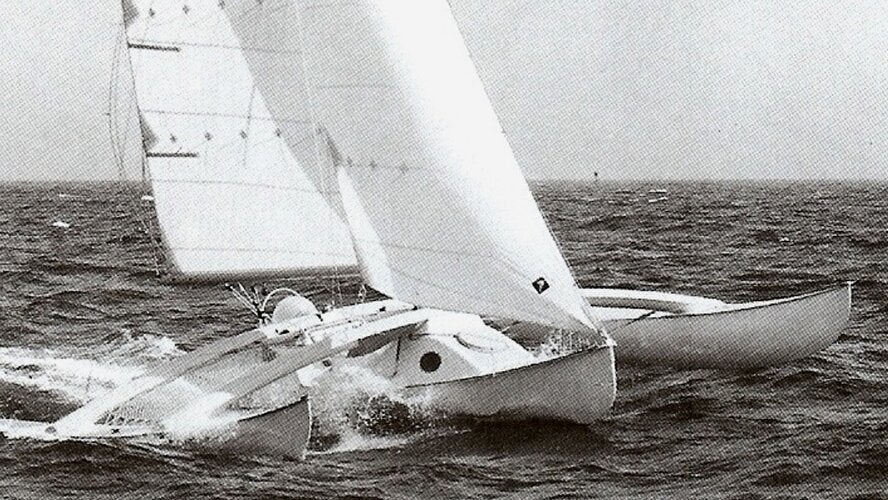 This Photograph is Bill Homewood on the South River, Chesapeake Bay Maryland. I believe this was actually his return from Newport Rhode Island, he just completed the 1984 OSTAR. (Observer Singlehanded Transatlantic Race). This was his second OSTAR and his 4th singlehanded transatlantic crossing in "The Third Turtle"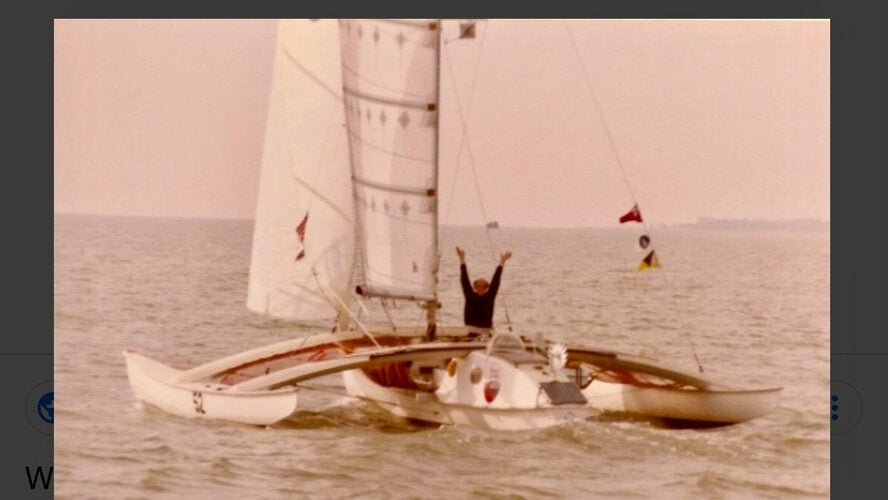 My Dad was a hardcore racer, obsessed, focused and he competed in many races offshore as well as throughout the Chesapeake Bay. He was very well known around the Annapolis racing circuit and the one to beat. I grew up as crew on many of these races as a young teenager only 13. He was always concerned about weight, keeping the boat as lightweight as possible so I was perfect as crew. He didn't believe in a large crew, 2 at the very most, no more then 150lbs each. He was aggressive too, near collisions at times and pushing the Turtle to its very limits exceeding 22 knots! Keep in mind, this was back in the 1980's just as multihulls really started getting attention. (The Third Turtle finished 3rd in the 76 OSTAR, Mike Birch had her then). On the Chesapeake Bay, we would start last and, in most cases, finish first. He loved overtaking the slower monohulls sometimes buzzy them close, sneaking up behind, stealing their air and make a fast pass around them. That little trimaran was fast as hell, quick acceleration after a tack and on we go! When Phil Weld donated Moxie the 52'? 1980 OSTAR winner Dick Newick trimaran to the Naval Academy, we had some real competition then!! Through the years though my Dad getting older rarely took her out. He had satisfied his thirst for sailing competition and when I asked him why he wasn't racing he said, "I got Bored". Wow, never would've thought I'd hear that. My entire life we spent nearly every weekend on the boats he raced, Cal 20, Ranger 26' and The Turtle. He kept Third Turtle on a railway in front of our house, out of the water. A railway system he built to keep the bottom clean. He sold The Third Turtle in the very early 90's for $15,000 to a sailor who wanted to ocean race and do the OSTAR. She was still quite competitive, but technology was moving so fast back then doubtful she would be in the top five of any big international race. He told the buyer to replace all the rigging, that she needed a refit before any ocean sailing. At some point later, just a few years, we heard she broke apart doing a transatlantic crossing or something like that. It's a bit hazy, it was many years ago. My Dad was devastated, heartbroken and questioned whether or not the boat had been rigged properly? Refitted? It was like he lost an old friend..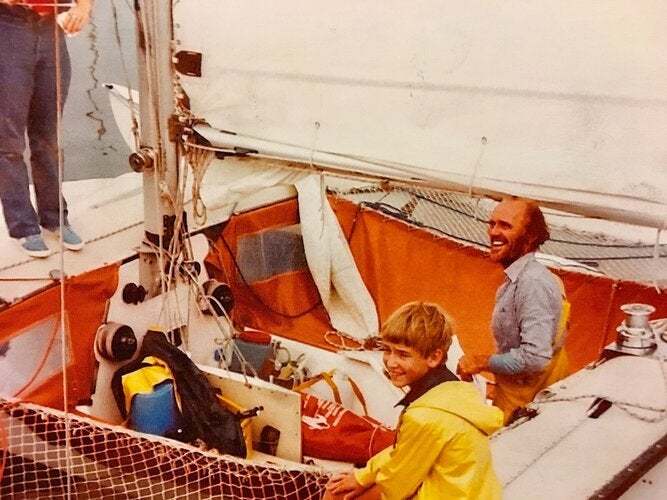 That's me in the yellow, lightweight crew. lol.. He let me take her out with some friends when I was just 16! I'll never forget that day, scared the crap out of me. It was blowing good, we saw 22 knots! and after double reefing the main slowed her down to 15 knots. Great memories. *I asked my Dad some point after what the top
speed he achieved and he said around 22 knots. He went on to say anything she would probably her to break up!!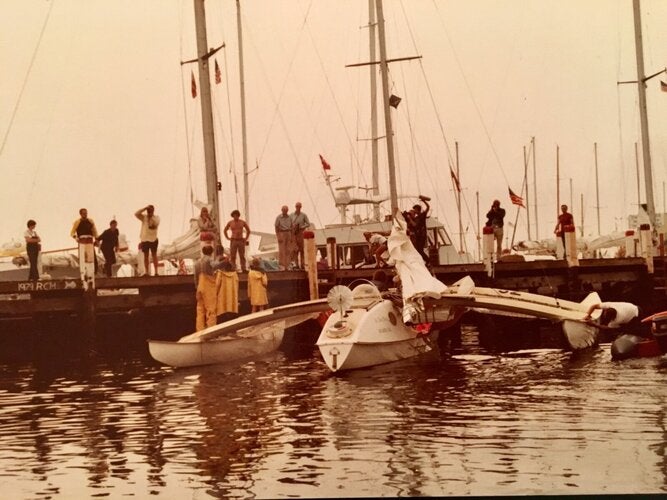 After the 1980 OSTAR he was asked to speak at many Yacht Clubs around the Country. He had a Copy of "The American Challenge" It was a documentary film that Phil Weld sponsored, he basically paid a very large sum to have cameras mounted on 5 OSTAR boats to make a film. The Third Turtle was one of the boats in the film. I highly recommend you watch this film! It's very informative and very entertaining!!
This month is the 12th anniversary of my father's death, I miss him. He was loved by many and he was really cool. Those OSTAR singlehanded sailors were trail blazers doing that race alone and without the technology of today... Wow.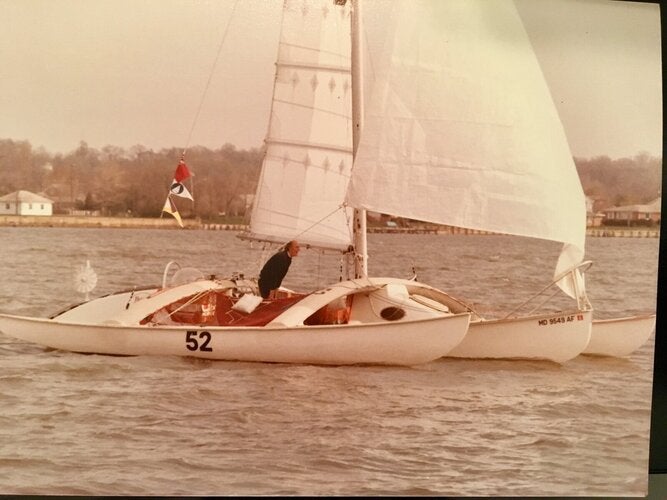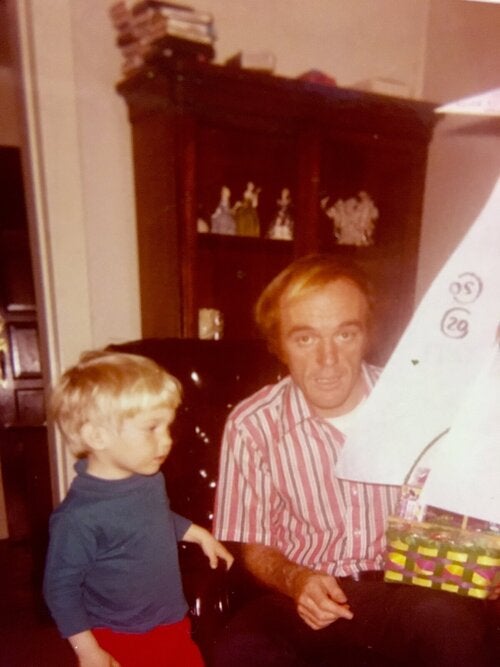 Just sharing a little ancient history here, hope you found it interesting, Cheers!