Team!
So I have been boatless for about 5 months (sold them all when I left VA for TX) and I just couldn't take it any more!    
Picked up a cool little winter project that I am going to restore and bring back to all its dinghy glory!  Problem is I can't find anything on the nets about it.  All I have to go on is it says Skeltic on the sail, Kelt on the transom and Keltic Marine on the bow.  I assume it's French but I could be wrong.    
I have a attached a pic of a rigged one.  I will rig mine this weekend to see what I am missing.  So far it looks like it's mostly there but it's missing the stainless eye on the bow for the forestay.  I think I can fab it up pretty easy it's a neat little setup.    
Anyone have one or know info on it?  I am thinking about a full resto if it sails well.  I want to use this to learn how to paint/gelcoat a boat not just patches like I did on my other boats.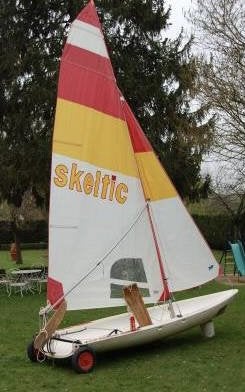 Last edited by a moderator: