Does anyone remember when boats looked like... boats?
Courtesy Designboom.com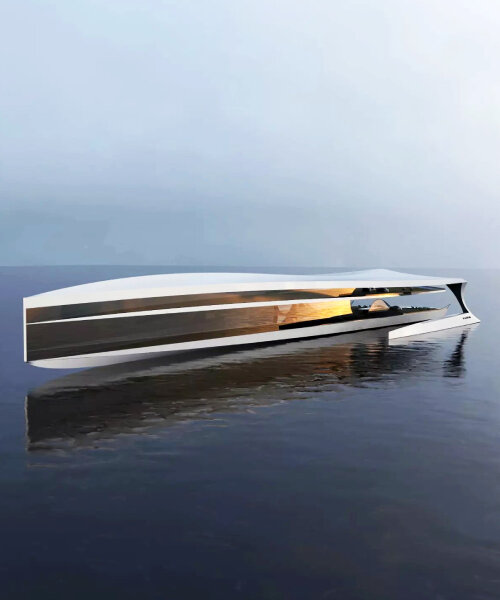 megayacht 'wakinyan' takes after a large bird beak enclosed with tempered glass​
design
196 shares
connections: +310
11k views
ARAS KAZAR IS INSPIRED BY A LAKOTA WORD​
Spun out of Native American mythology,
yacht
designer Aras Kazar delivers his mega vessel concept 'Wakinyan.' He veils it in fiber and tempered glass that surrounds the
water vehicle
and gives it a visual of gold accents when in fact these shades of opulence only reflect the natural light showered down at the golden hour.
The concept trimaran is also infused with an aluminum exterior. From afar and above, Kazar's design takes after the large beak of a bird or a flight-ready feathered creature on the verge of taking off. The scheme circles back to the translation of the Lakota word Wakinyan into 'thunder spirits,' 'thunder beings,' or 'thunder birds.'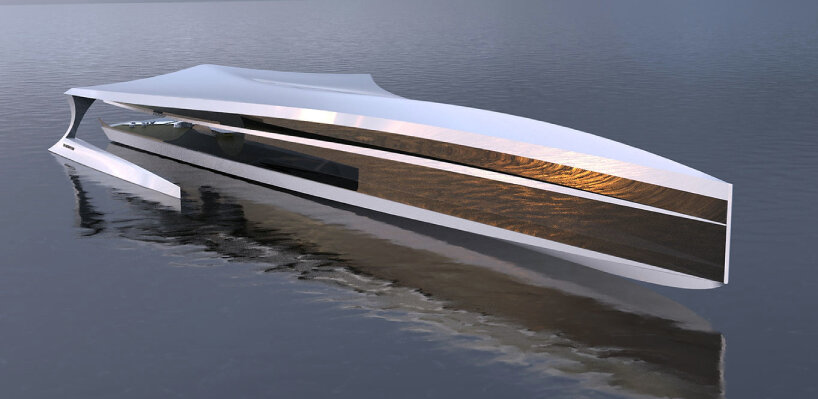 images courtesy of Aras Kazar
'Wakinyan is my spiritual bird blended in form of a boat,'
says Kazar
, whose mega vessel spans 130 meters long with 26 meters beam and a total width of 38 meters.
'I'm really happy with the final look. I have achieved that sleek, minimalist but contemporary look. This floating bird's hull is based on a hydrofoil system to give passengers a nice, smooth, and fast ride.'
The subtle artistry that the fiber and tempered glass give almost obscures Wakinyan from plain sight. It rather reflects the waves of the sea and its surroundings, and if it were not for the bright white top of the mega vessel, onlookers may believe an invisible ship is sailing. Wakinyan is also equipped with all-electric and hydrofoil technology that allows the megayacht to achieve a maximum speed of 32 knots.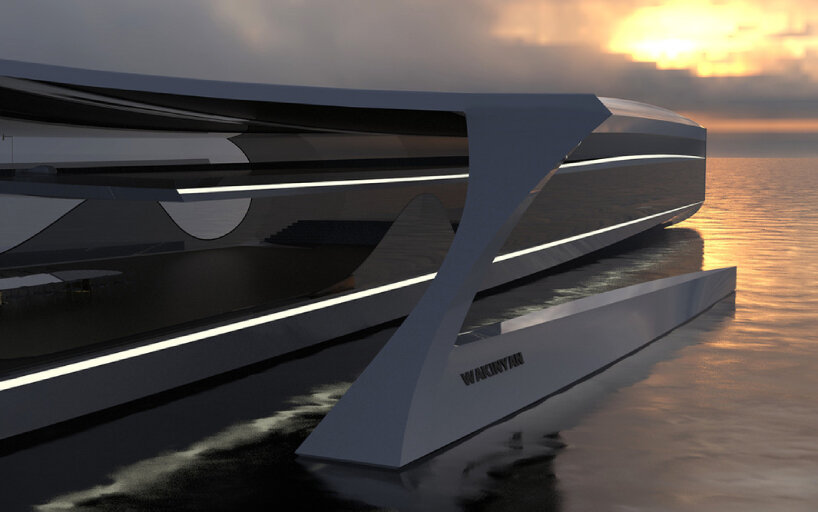 LED lighting lines the edges of the exterior
FIBER AND TEMPERED GLASS ENCLOSE THE VESSEL​
Aras Kazar
opts for full fiber and tempered glass decks in hopes of providing almost 360-degree, landscape views with lots of natural light spilling inside. His interior design follows the soft, gentle, cloudy feeling of the exterior. The fuzzy feeling the design emits bathes the passengers in a serene warmth, from the hazy white palette of the furniture and fixtures to the nuances of wood and touches of beige accents to further soften the atmosphere.
'Wakinyan is designed to make you feel calm and relaxed, whether you are enjoying it from the inside or just looking at it from the outside,'
says Kazar.
Amenities oscillating between luxury and simplicity come forward through the pool on the aft and an in-house spa. Families on vacation may slide in just fine in the mega vessel's accommodation through its five large bedrooms with one dedicated master bedroom.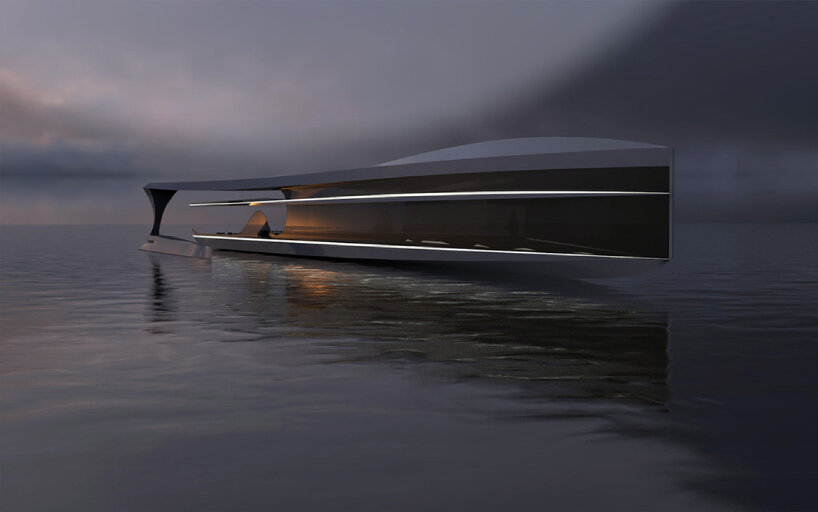 a mix of aluminum, fiberglass, and tempered glass forms the exterior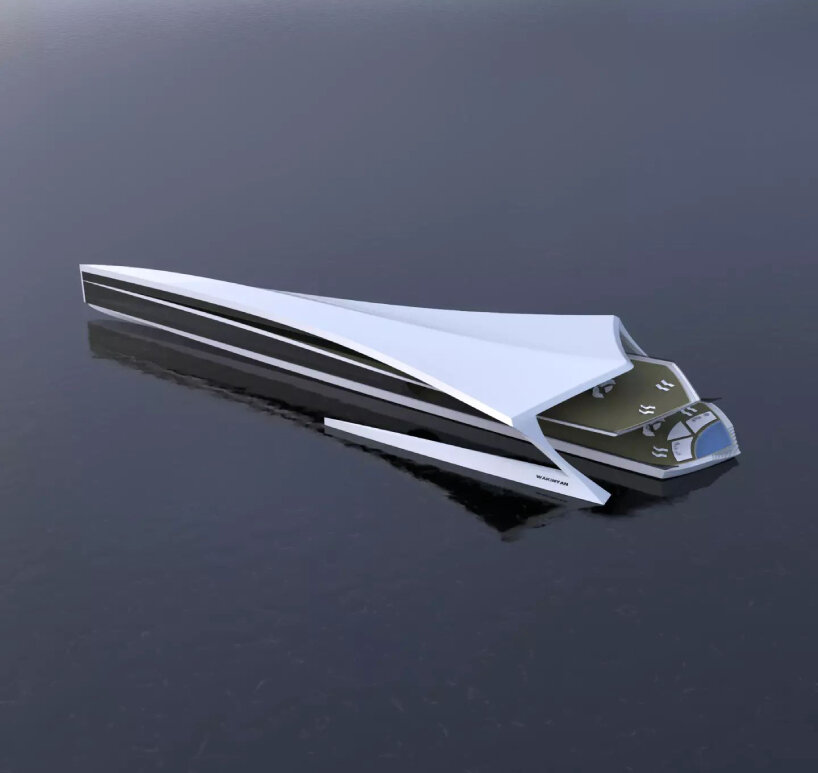 the design inspiration is taken from 'thunder bird'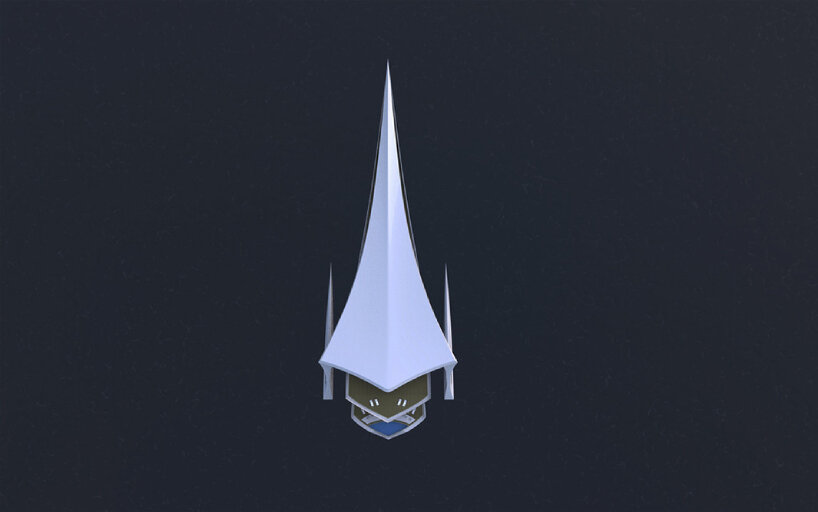 view from above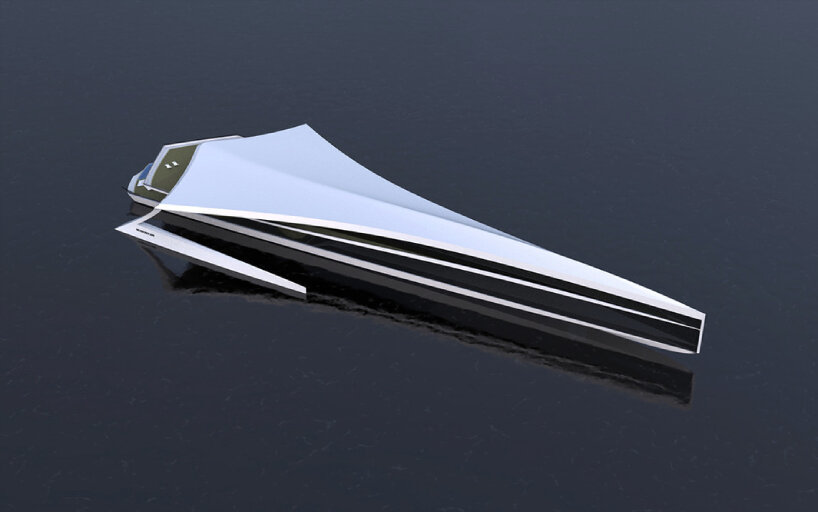 Kazar interprets the Lakota word 'wakinyan'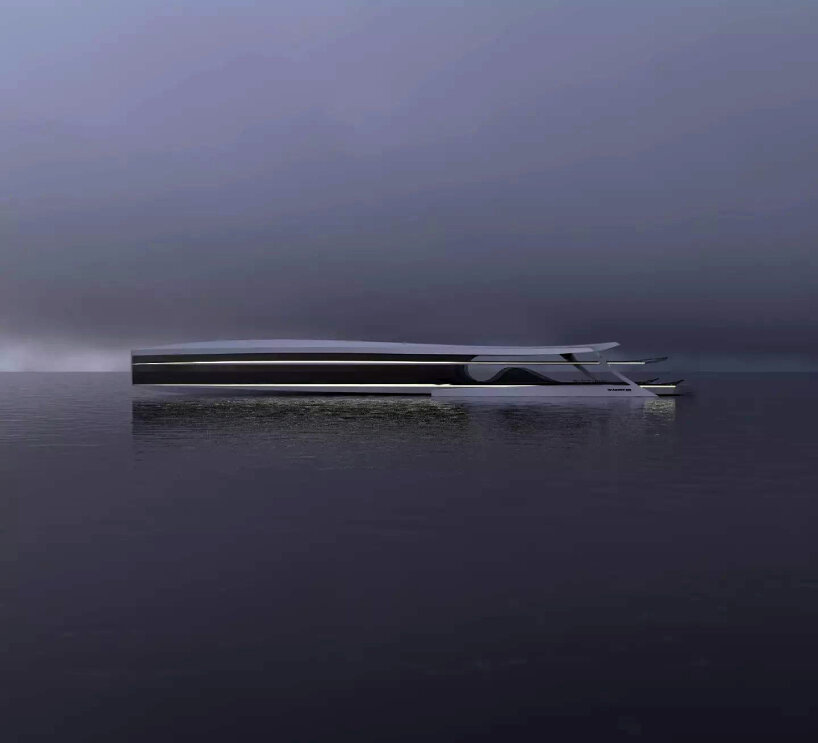 spacious open interior for the mega vessel