His name isn't Kris Larsen by any chance is it?

FKT
I love his approach to interior lighting - no sRGB remote control LEDs here:
His boat is not my style but note how others describe his character;
"Fortunately, [the] media scrum has had no impact on Kris, whatsoever
," wrote Natalie Uhing on her blog (Uhing has sailed with Larsen before, and works as an artist in Darwin). "
What others say he can or can't do isn't [Kris'] problem. In fact, he quite enjoys playing the 'gormless idiot' in the presence of scandalized, angry 'proper sailors'. It makes them feel good about themselves, they pronounce him a lost cause, and swagger off with a ripping good story to tell The Boys back at the yacht club, leaving him alone to get on with his plans
."
But Uhing reminded us that Larsen is not an "
arrogant and unlikeable maverick. A maverick he is, for sure, but not actually one that you'd take a personal dislike to. He doesn't brag about what he does, is unassuming and grateful, and he is always respectful (especially when confronted by critics, preferring to hold his peace and cultivate the other person's tolerance, than to beat his chest and defend his sailing practice)
."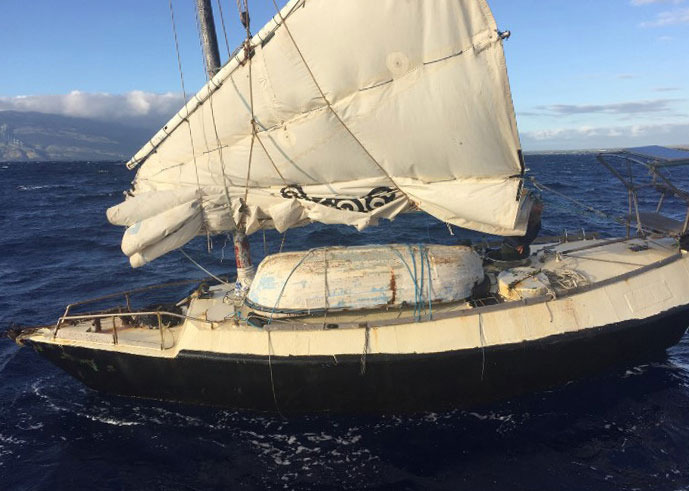 Last Wednesday in 'Lectronic Latitude, we reported on a "Strange Boat Rescued off Maui." One reader commented: "Every man and woman who owns a boat, loves their boat above others. It's just not good manners to disrespect another person's boat." Curious and inspired, we looked for more...

www.latitude38.com
BTW, "playing the gormless idiot" was a favourite trick of Tolstoy whenever he was visiting the salons of St. Petersburg.