I recently had the original Volvo MD7A removed from my 1981 Morris Annie and replaced with an ElectricYachts Quiet Torque 10 Electric Motor. The new motor is powered by 12 Battle Born 12V, 100 Ahr batteries wired in series / parallel to result in a 48V, 300 Ahr system. Battery charging is done via 120V shore power, motor regeneration while under sail, and soon to be added solar panels.
I kept the two previous batteries (1 house & 1 starter), Optima, 12V, 50 Ahr, AGMs. Each is charged by a dedicated 50W solar panel and Victron MPPT charge controller. These solar panels are mounted on the stern rail. The 12V system is currently isolated from the 48V system. I may add a DC-DC converter down the road, but don't see any reason to do so at this point.
I got a quote to get a new Volvo D1-20 before making my final decision. Total price for the Volvo installed was about the same total cost as going electric +/- $1000. Going electric came in at ~$22K. I did have some additional work done by the shipwright (new cabin heater, sanitation hoses, and stuff that got discovered as "needed to be fixed" as we pulled things apart).
Since people will want to know these details here weights. It's not everything, but the rest of the stuff is pretty much a wash with the exception of the old transmission we pulled out. That thing was a pig.
Total weight of the MD7A (motor, tank, fuel) = 516 lbs
Total weight of D1-20 (motor, tank, fuel) = 436 lbs
Total weight of QT10 (motor, batteries, charger) = 452 lbs
All of the work was done at the Berkeley Marine Center by Sean Shigley of Shigley Shipwrights. He's done a ton of these swaps to electric and really knows his stuff. Great guy to work with and very reasonably priced.
Here are some photos:
Old motor - loud, vibrates a lot, and smells like Mordor. Also was getting really flakey.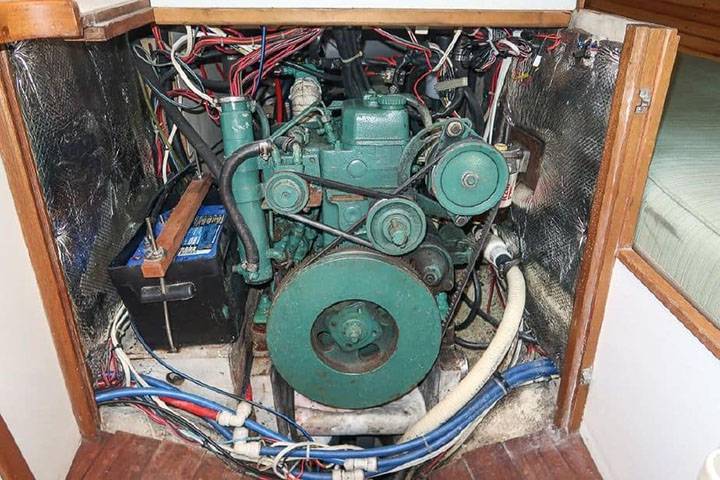 New engine compartment
Bus bars and 3 batteries.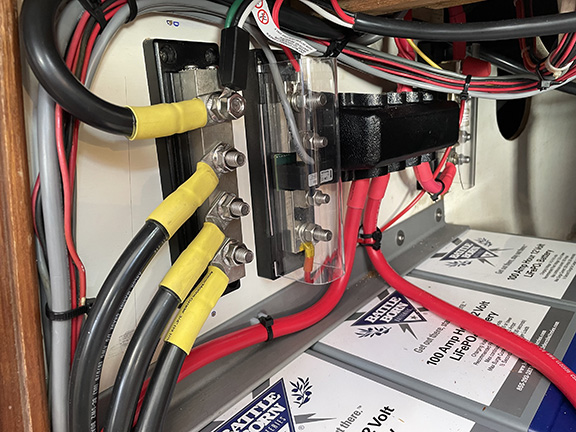 Cabin sole battery bank. These sit where the old fuel tank used to sit. The 3rd battery bank is on a shelf behind the motor & below the cockpit sole. The shelf was already there and the previous owner had installed ~150 lbs of lead ballast for some reason. Chuck Paine has no knowledge of why that was done.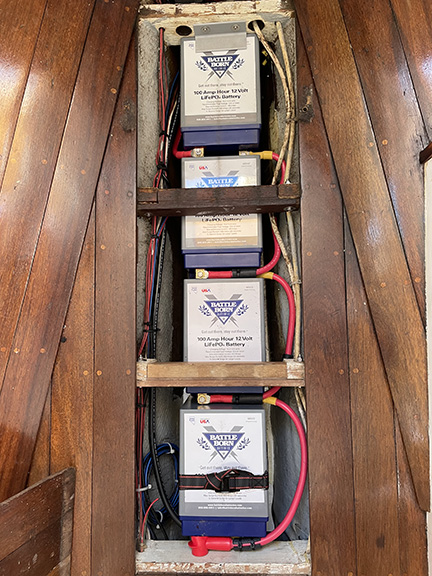 Shore power charge controller. Not show, but there is plenty of room for a solar panel boost MPPT charge controller on this surface.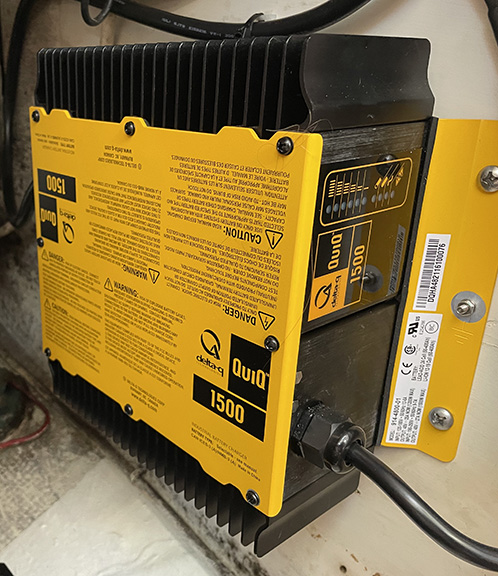 Power control panels. 48V motor on/off is the red dial at the top left. Shore power charing on/off is the breaker on the far right.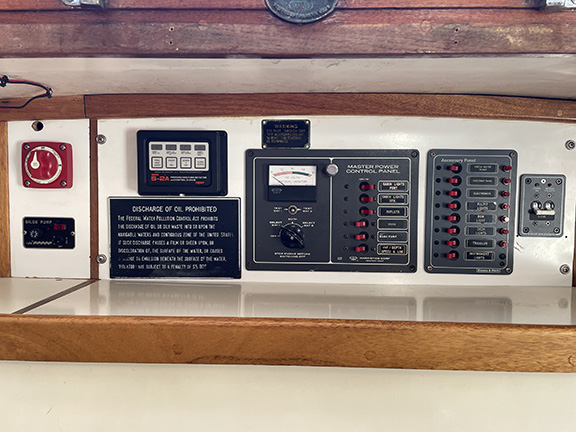 House batteries, Victron MPPT charge controllers, and 15A breakers beneath the quarter berth.
Motor throttle located in the same spot as the old one. The motor display is also located in the same spot as the old one, but I just included a very low res factory photo because I forgot to shoot one. The display is actually quite good and easy to read.