Fabulous place requiring many visits to appreciate it all. Science and Technology and Maritime museums are my favourite touring haunts.
Kilby was working for Texas Instruments when he came up with that. Noyce who subsequently got the patent first worked for a guy called William Shockley (who was jointly awarded the 1956 Nobel Prize in Physics for research on semiconductors) but left with a bunch of engineers  to create Fairchild Semiconductor and where he was when patent was awarded. After suing each other Texas Instruments and Fairchild then shared the spoils. Shockley while a prolific securer of patents never profited to the extent others did, however it is acknowledged he is the one who brought silicon to Silicon Valley.
Seems like it was a very incestious business back then.
Everyone automatically thinks the Integrated Circuit gave birth to the personnel computer which indeed it did however remember most universities and businesses were still importing data via punch cards onto mainframes for another two decades. Even with the wider introduction of the IBM PC in early 80's they were hellishly expensive and a shared resource in the workplace.
The thing that impacted upon most people's lives was the introduction of the electronic calculator in the late 60's by company's such as Texas Instruments and Hewlett Packard. The best example of how the PC was slow to launch is HP came up with a desktop PC in late 60's but elected to call it a "calculator" fearing market resistance to the word "computer".  Steve Wozniak (Apple tech wizard and joint founder) was working at HP developing the Apple 1 in his spare time and offered it to HP half a dozen times under a first right of refusal arrangement, yet HP knocked him back.
I first starting using a scientific calculator in the 70's then splashed out on a Tamaya NC2 navigation calculator to speed up the transformation of sextant readings into celestial fixes. This was before the Sat Nav or NAVSTAR was made available to the public by US Defence in early 80's (intertmitant fixes not continuous like current GPS) though recievers cost an arm and a leg ensuring the sextant still had a life. GPS as we know it today didn't arrive until the early 90's but with no electronic maps. However you could get a electronic plotting device that took the fix from the Reciever and when calibrated to and laid over a paper chart it showed the fix on the paper chart.
I think of the time that navigation calculator saved plus you tended to get less errors compared to these guys having to do it all longhand.
I still have a HP Financial Calculator released in the early 80's and cost I recall a couple of hundred dollars which in today's dollars is thousands. HP still make that exactly the same calculator today but costs less than a $100.
Long live the humble calculator.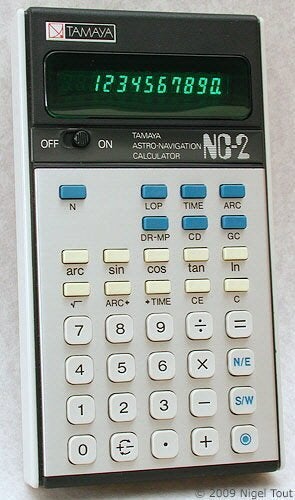 Last edited by a moderator: