I had just come on deck (last weekend), when the engineless Schooner Stephen Taber had sailed into Pulpit Harbor. She was already on her second tack through the harbor. 
47 tons of 1871 technology, all moving well in the gentle breeze.
They crossed far astern of our anchored boat with the port anchor lashed to the bulwark, ready to deploy.
Sails rattled as they brought the big boat into the wind. It takes sea room to tack the schooner that measures 115' from bowsprit to boom end.
Turn,…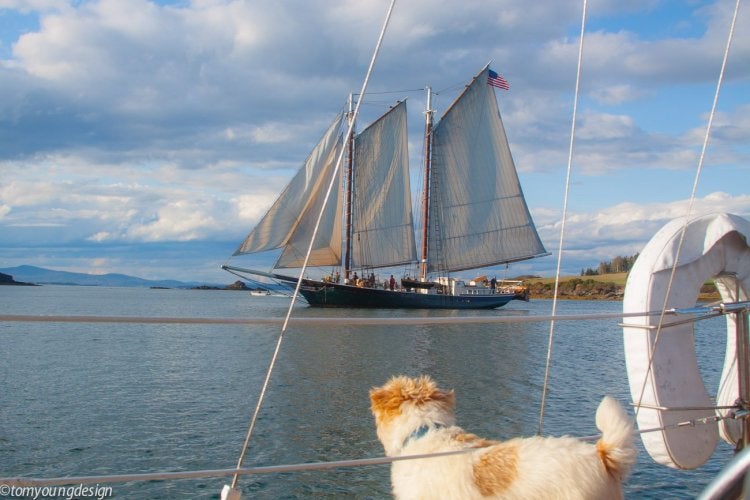 ...turn,...
...turn. 
Sails filled again and drawing well, they were on their final tack. Pinched up to windward, the old schooner crossed close by our stern this time.
The bow turned slowly into the wind as headsails were doused. A gaff was loosened and wrinkles appeared in the sails. 
The crew and passengers waited silently on deck as the Taber, still full of energy despite the luffing sails, coasted on and on, to windward.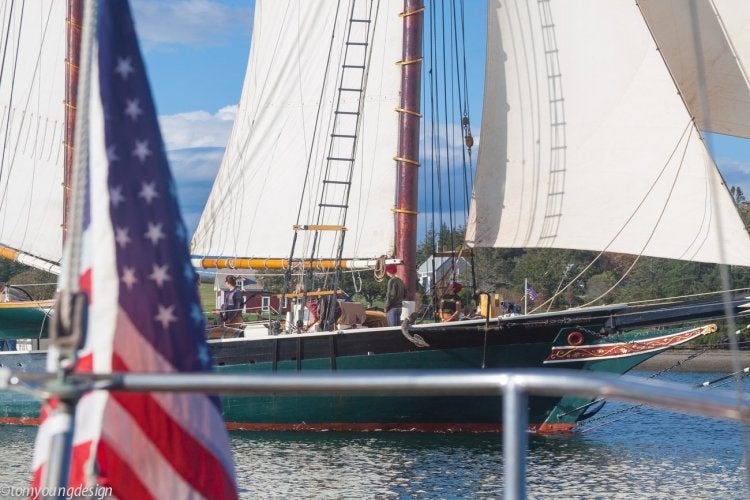 Finally, a lone vocal command breaks the silence and is instantly followed by the deafening roar of huge iron chain links racing through a battered hawsehole in the bulwark.
Still coasting slowly forward, the chain rode stretches bar tight. 
The ancient fisherman anchor fetches up on the bottom ending this magnificent scene that is centuries old.