Open Letter for the Resignation of  C. Edward Hartman, III
Often more times than not, our leaders who are either elected, or placed into a position through nepotism in the roles to protect, advance, and lead our society, fail us with most profound lack of civility and dignity. Throughout the last few years, this has been more prevalent due to our vast differences, and 24/7 news cycles driven by clickbait articles and politics.  There are places in this world where we go to escape these differences, and my favorite place has always been on the water, racing sailboats. However, just like everything else, the things we cherish, often get tarnished by the current dynamics of politics and despots. With this, I am afraid to say, the Annapolis Yacht Club has fallen into this category as well, driven directly by the new Commodore, C. Edward Hartman, III.
The article below, is from Annapolis Yacht Club's Smoking Lamp, the newsletter which is published and delivered monthly.  Whether you agree/disagree with the current landscape, this is exactly what should not be published, by a person in position of power, that encompasses all types of people.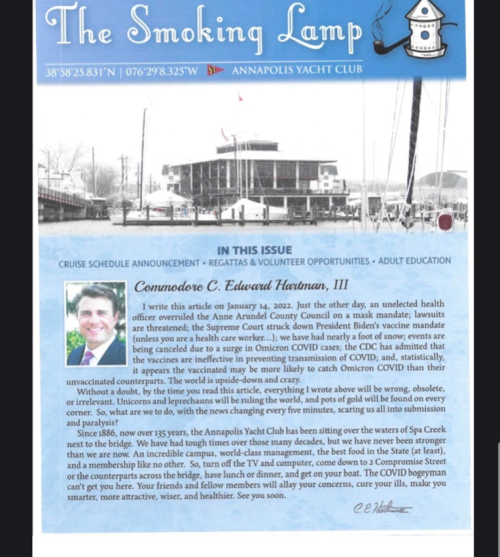 ​
 ​
As a member of sailing community, I am appalled this made it to publication, albeit not surprised by Commodore Hartman's comments. Over the last year, there have been a few incidents revolving Hartman. Hartman was the lawyer leading the charge in Maryland to sue Anne Arundel County Exec Pittman for the COVID restrictions on restaurants "on behalf of restaurant groups." His often poor jokes, of emblazing Trump on his crew shirts, echoed throughout the harbor one summers eve after Wednesday Night Racing.  Then there were his comments of turning AYC into a club "as prestige as Augusta National." Suffice to say, this gave many folks pause knowing he would become the next Commodore. While his reign is only for two years, in less than two months, he has made a mockery of title, Commodore of the Annapolis Yacht Club.
His lack of tact during a time which has been unparalleled during our lifetimes is astonishing.  There are countless members in the community from staff, friends, family, who have all been impacted negatively throughout the pandemic. I have to also ask, is he on drugs? Unicorns and Leprechauns ruling the world? COVID Bogeyman?  Surely, this is not a leader anyone would want for the Yacht Club, but more along the lines of a cult fanatic the FBI has been monitoring. 
It is with all this, I urge the Annapolis Yacht Club to do the right thing, and ask for his Resignation.