Wiley Sharp of Denison puts out pretty useful quarterly reports on brokered cat sales. The latest is here: 
Q2'2019
I put the data from Q1'2017 to Q2'2019 into my supercomputer and made some charts... 
Only used cats 49' LWL and longer (cuts out a lot of 47'-48' FPs, Leopards, and Lagoons since this is SAILING Anarchy). Also removed 3 sales that were on the market more than 5 years. This left 116 sales over 10 quarters.
Chart 1: Depreciation stops at 20 years and at $200k. The two yellow dots are both Privilege 585s both sold in Jan'19, I suspect there is something dodgy about those sales, both in France. Otherwise pretty clean data.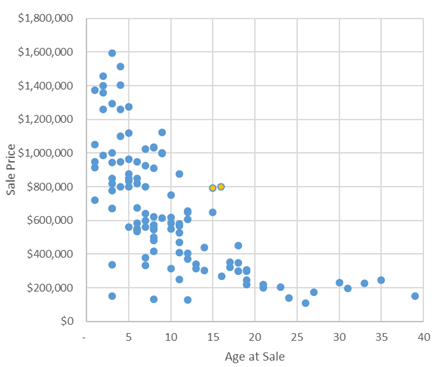 Chart 2: Average years on the market since listing. In practice probably longer, because of de-listening and re-listing. At over one year this is the true deadweight cost of selling a cat. Brokers do work for their commissions (some more than others). The difference between the offer price and the listing price is not a real cost — listing price is just a guess and a marketing signal, (accepted) offer price is the true market price. But cats spending a year until the clearing price is found, accumulating depreciation, dock fees and maintenance, is the real economic loss. So what Wiley Sharp is doing in disseminating these data is a real service to buyers and sellers, since more information = faster decisions.
Chart 3: Sales have picked up in 2019 from 10 per quarter to 15-20. This could also just be more sales getting input into YW's sales database.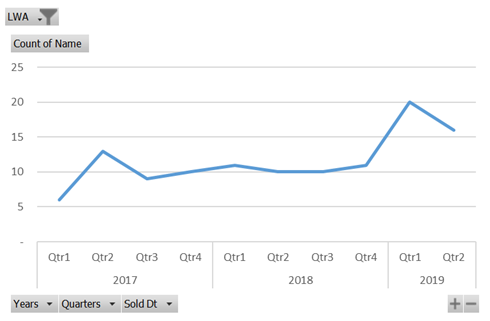 Chart 4: Average selling price. This picked up in Q1'2019 on the sales of 3 Outremer 5Xs (yum!), and 3 somewhat dodgy sales of Lagoon 620s (Venezuela, Turkey, and Spain — if you need to get your money out of Venezuela pay $1.5m for a Lagoon, but I don't know). Q2'2019 is the lowest price quarter.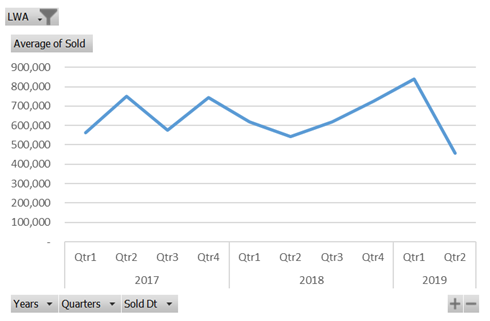 Interestingly 55' Wormwood Avalon appears to have sold in May this year for almost $300k. Another one that I quite liked was Pinta 52' tri, sold in March for $225k after almost 3 years on the market. I almost went to see it, but "granite countertops" stopped me.
Last edited by a moderator: