Weather update + AIS positions
After updating Anaconda Navigator and playing with Python for half a day, I succeeded in running the AIS-script posted up thread earlier and import the positions for the first 8 boats into OpenCPN. Compared the reported 17:30 positions with their AIS-positions. As the timestamps for AIS differ from the 17:30 timestamp and benchmark, there are differences. For some boats these delta's are bigger than I can explain atm. Either the AIS scraping is not accurate enough for some boats, or their reported positions do not match the 17:30 timestamp. My guess is the latter, as AIS does not lie and there are almost no other boats in the area that could trigger a false AIS-report. And AIS speed and heading confirm it's a VG-boat when checking the offical tracker.
DELTA AIS-position versus Reported 17:30 in NM and time:
Dalin 9 nm and 35 minutes (seems accurate)

Burton 23 nm and 87 minutes (not OK) 

Seguin 36 nm and 29 minutes (not OK)

Herrmann 48 nm and 88 minutes (not OK)

Le Cam 53 nm and 42 minutes (not OK)

Bestaven 25 nm and 55 minutes (not OK)

Ruyant 18 nm and 51 minutes (seems accurate)

Dutreux 24 nm and 35 minutes (not OK)

Now to the weather routing. In the top-8 boats are 3 without a foiler, that is not bad. Conditions (e.g. sea state) have not been ideal for foiling lately. As the sea seems to flatten a bit around 3 meters for Dalin and Ruyant, these foilers should be able to get their extra advantage until the next LP comes in Tuesday. If sailing on the good bow for Ruyant.
I changed the virtual waypoint towards Cape Leeuwin, 70 nm above the AEZ. After 120 East the AEZ moves to the south, so this corner is a natural waypoint. Adjusted polars for Dutreux and Seguin for non-foiling.
ECMWF and GFS align, more or less, as usual. Not guaranteed on a boat level.
Routing table is in pic 1. Rough rides again predicted due to the new wind coing in from the west for most boats. Dalin, Ruyant and Bestaven have very high max winds in the 40s and 50s kts. I can understand that they want to stay out of this in order to keep the boat in one piece. A detour more to the north could be necessary. See pic 3 for routing Dalin with max 35 kts wind and max 5 meter swell. His heading of 83 degrees falls in lign with Dalin routing around the heavy stuff. The blue line is routing without wind or wave constraints.
Also, the ETA's to the virtual WP are within 13 hours arrival after Dalin for the chasing 7 boats. Pressure stays on the leader.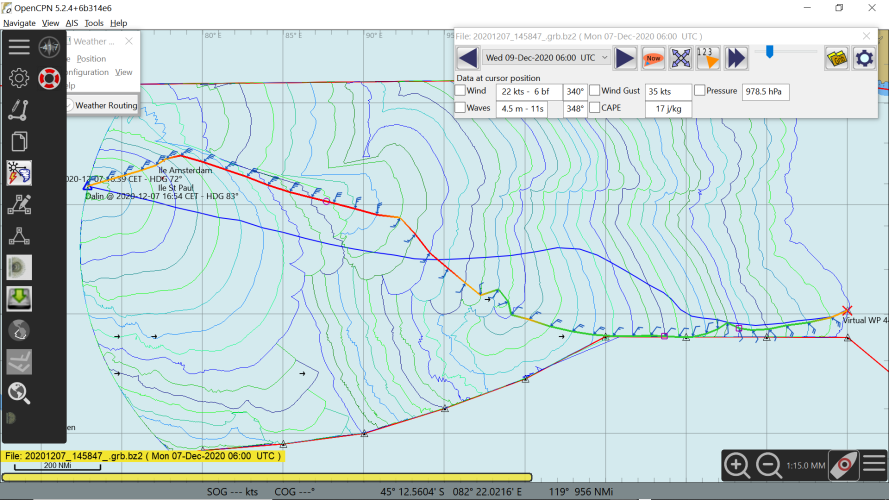 Last edited by a moderator: