moderate, informed, ex-gunowner
The Second Amendment, and "well regulated militias" in particular, may have been all about slavery.
Clearly, federal authority was feared by a vocal slaveowner contingent.
At the ratifying convention in Virginia in 1788, Henry laid it out:

"Let me here call your attention to that part [Article 1, Section 8 of the proposed Constitution] which gives the Congress power to provide for organizing, arming, and disciplining the militia, and for governing such part of them as may be employed in the service of the United States. . . .

"By this, sir, you see that their control over our last and best defence is unlimited. If they neglect or refuse to discipline or arm our militia, they will be useless: the states can do neither . . . this power being exclusively given to Congress. The power of appointing officers over men not disciplined or armed is ridiculous; so that this pretended little remains of power left to the states may, at the pleasure of Congress, be rendered nugatory."

George Mason expressed a similar fear:

"The militia may be here destroyed by that method which has been practised in other parts of the world before; that is, by rendering them useless, by disarming them. Under various pretences, Congress may neglect to provide for arming and disciplining the militia; and the state governments cannot do it, for Congress has an exclusive right to arm them [under this proposed Constitution] . . . "

Henry then bluntly laid it out:

"If the country be invaded, a state may go to war, but cannot suppress [slave] insurrections [under this new Constitution].

If there should happen an insurrection of slaves

, the country cannot be said to be invaded. They cannot, therefore, suppress it without the interposition of Congress . . . . Congress, and Congress only [under this new Constitution], can call forth the militia."

http://truth-out.org/news/item/13890-the-second-amendment-was-ratified-to-preserve-slaver

y>
The SAF is suggesting that absolute gun rights were being granted or assumed around 1780, The claim is false, since we only had three cities, and each had voted for various practical gun restrictions, These gun restrictions included disabled guns in city residences, and laws against firing guns in cities, and shooting in taverns.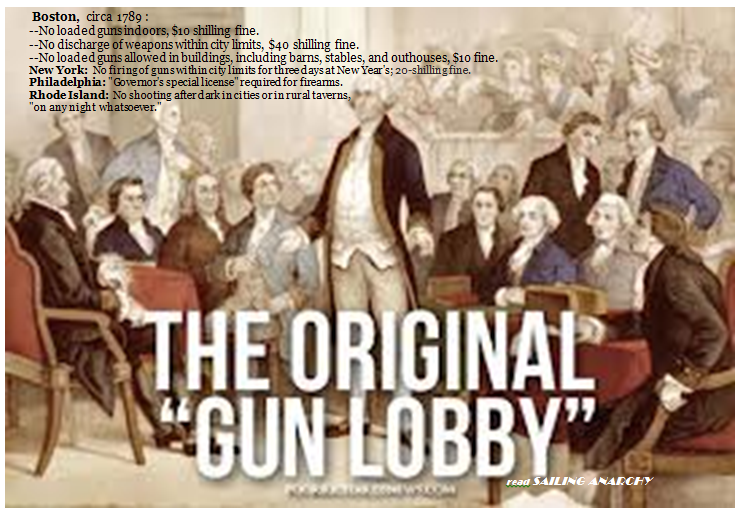 Last edited by a moderator: