I've got a WS500 external regulator that I've had knocking about for around a year & I've decided its time to fit it.
I'm hoping someone here is better with alternator wiring that me.
The alternator its going on is currently internally regulated, its an N-Type, so the regulator sits between the negative brush & the ground. I have the correct n-type harness for the regulator.
This is the alternator wiring as standard: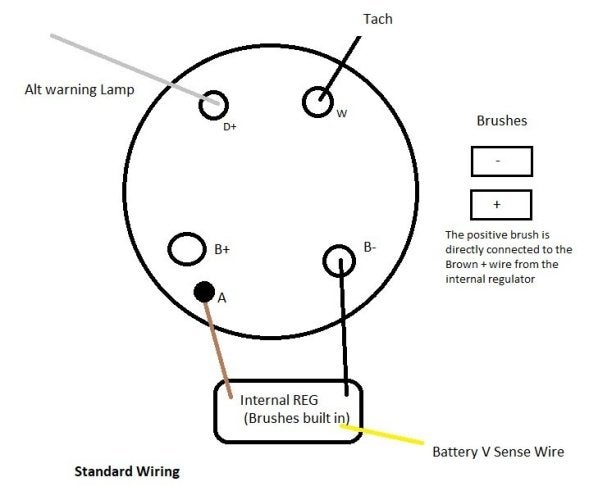 So the positive brush has a continuity with 'A' (I just made A up, its not labelled anything) There is also continuity between A & W, but
not
between A & the B+ terminal. Which I guess means that A is on the output side of the field diodes, along with W.
My plan was / is to leave the internal reg in places (as it houses the brushes), leave the wire that connects A to the internal reg in place (because it also connects to the positive brush), but remove the black & yellow wires from the reg, so its essentially just acting as a brush holder & nothing else.
I've soldered a field (blue) wire onto the back of the negative brush for the external reg.
To cut a long story short, this is how its wired now & it doesn't work, I'm sure its probably something simple I've missed / got wrong.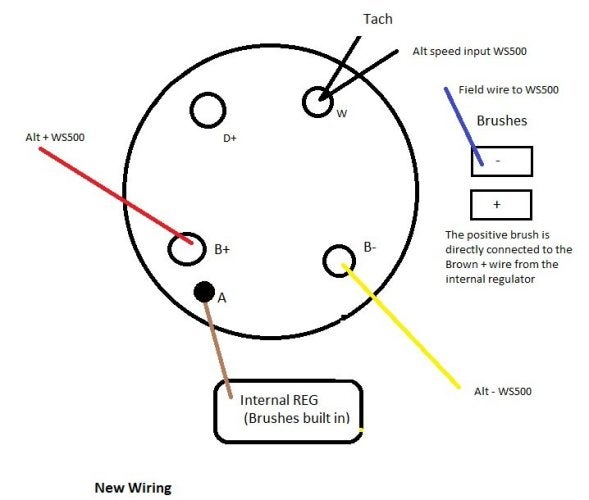 I removed the warning lamp wire from the D+ as the WS500 provides a lamp ground source for the panel.
I'm sure all the wiring in the battery compartment & switch panel is correct, ( the sense wires & ignition feed ) the regulator powers on & goes into 'ramp up mode' (indicated by flashing LEDs) but then goes into error & doesn't produce any output.
Can anyone spot anything obviously wrong with this? I know I haven't got any excitement current at D+ from the lamp, but as the reg works the warning lamp it seemed like it wouldn't need connecting?