B&R 38​
Own photo
Bergström & Ridder are best known (or unknown?) for their invention Windex, which sits in the mast of most sailboats. They also designed a number of boats with the B&R 38 being one of the funniest. Unfortunately, it is only built in one copy, which also seems to have found the right owner.
The boat has a drop keel to be able to enter archipelago bays despite its large normal draft and water ballast to be able to carry its sails well in stronger winds. In recent years, many have been overtaken by Pac-Man on half-wind sails when they sailed 5-10 knots faster than the competition.
The mast is a carbon fiber construction with B&R's special bracing with braces in a cross from the deck to the lower spreaders and the same one floor up.. The mast becomes very dumb and this places extra high demands on the design of the mainsail, which the new mast lives up to.
The boat is from 1993 and can be seen as very advanced for that time!
Length: 11.75 m
Width: 3.85 m
Depth: 1.15 - 2.77 m
Weight: 3,020 kg
Keel: 1,000 kg
Size: 49,14 m2
Jib: 26,50 m2
Gennaker: 123,50 m2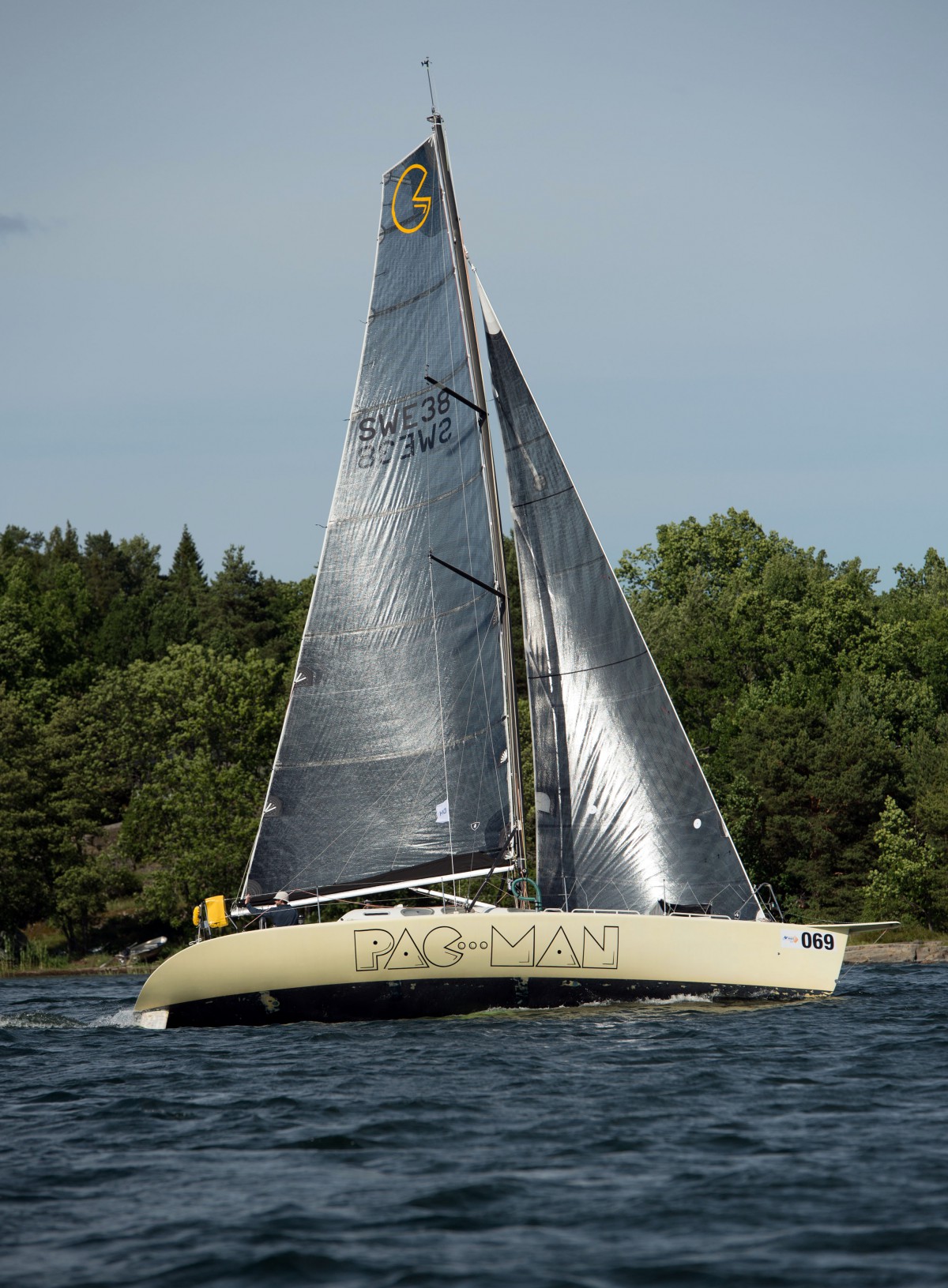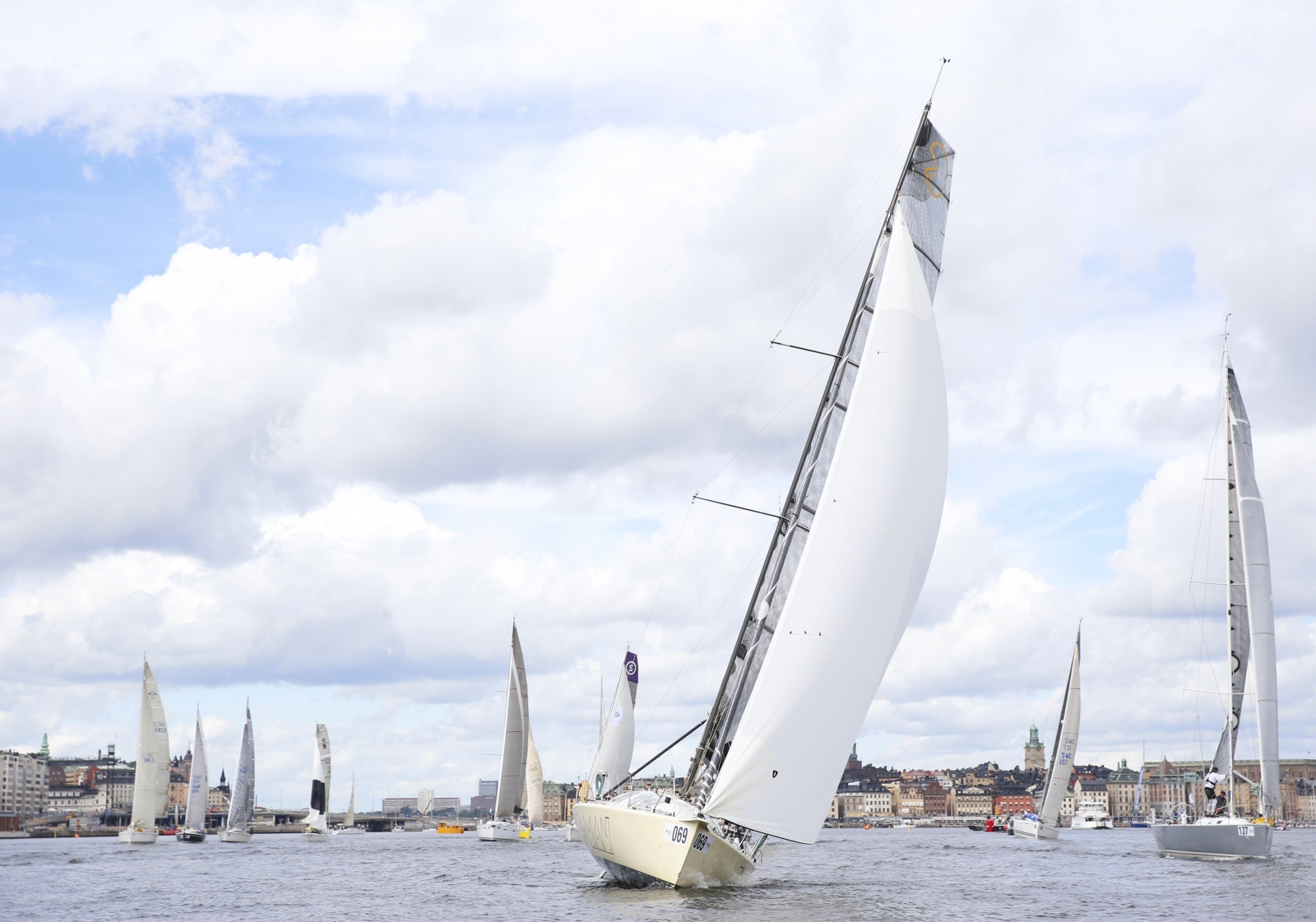 re Gotland 2015
In the big SRS class with 150 boats the little strange boat Pac-Man won. The skipper Jimmy Hellberg has been very close to winning many times.
"I have sailed at least ten times. I have done five really serious attempts and I have been second once. I have dreamt of winning since the first time I participated at the age of 18 – 19 years," says 41 years old Jimmy and continues: "The boat is not beautiful but well built and weighs only three tons – in sailing outfit. That is what gives it its fantastic sailing performances. Her weight is less than half of a modern 38 footer.
"But I can never sell her. It just is not possible. She is too ugly. If I want to get rid of her I must give her away…"
ORC DH WC: Martin Strömberg on Z30 + Zeus22 June 2022​
The countdown to the Gotland Runt start has begun and we are looking into the super-interesting ORC double-handed Worlds class. Following the Linnea Floser article, we have now met with Martin Strömberg, who barely needs any further presentation. Martin is one of Swedish sailing's most seasoned offshore sailors with four Volvo Ocean Race campaigns with the projects Ericsson 3 (2008-2009), Groupama (2011-2012), Dongfeng (2014-2015) and Turn the Tide on Plastic (2017-2018). Add to that lots of other sailing projects and we understand that Martin is a sailor of high international rank.
The corona years have not been great for those who make a living from sailing, but Martin now chooses to look ahead to future endeavors on the oceans. There is the The Ocean Race that starts in January 2023 and then he does not want to give up hope that mixed double-handed will become an Olympic class to Los Angeles 2028.
Martin sails with Anders Dahlsjö on the brand new Z30 +, Zeus. Martin and Anders have both sailed the Volvo Ocean Race together (Ericsson 3), but also a number of double-handed races on the west coast, so they know each other well.
Martin has no in-depth knowledge of the competitors, but there is no doubt that it will be tough. Zeus has won both Raymarine2star and KSSS Offshore regatta as a tune up for the Worlds, so it obvious that they are definitely among the favorites.
Martin and Anders sail a Z30+, which is a further development of a 20-year-old design (Z31) that Jimmy Hellberg, among others, put his teeth into. Jimmy has contributed with technical development such as modernizing the bow and stern and a new sailing plan to make it easier to sail. The boat has also got a new keel and rudder. Zeus is built at Vaxholm Komposit entirely in carbon and is an exciting concept where short-handed racing has been in focus. The sails consist of a mainsail and a jib that can be reefed. On downwind, they have a Code and an A2. For the WC, they also complement the sailing wardrobe with a stay sail to optimize the downwind sailing. So far, they have only raced in the SRS rule, but Martin sees no issues in getting a strong ORC certificate.
- Even though the boat is brand new, we think we have got a good idea on how to set the sail and rig in different conditions. Sure, there are boats that can beat us in certain specific conditions, but Zeus feels very all-round, which should be positive for a race that spans several days.
Martin concludes by saying that he has lots of nice Gotland Runt memories, so it is difficult to choose one. He is very much looking forward to the World Cup and promises that they will fight hard to take home a World championship title to Sweden!
We wish you great luck from KSSS!
Last edited: